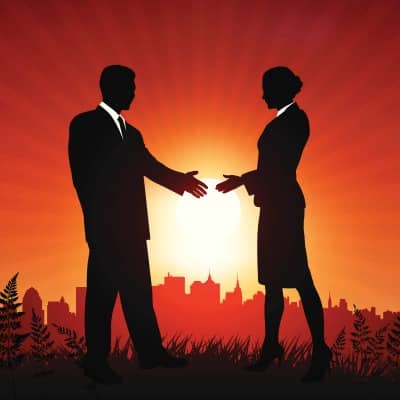 One of the drawbacks to many solar events is the tendency to cover solar in isolation from the larger cleantech and business world and to remain insular. The SolarTech East Coast conference, which was held by Greenworld Conferences in New York on April 23-24, sought to remedy this deficiency by providing a broader and more diverse perspective on solar.
The event highlighted synergies between solar and other renewable energy sources and between digital media and solar/clean energy. It surveyed new innovation practices in a wide range of areas impacting solar, including technology, marketing, finance, insurance, and marketing.
A recurring theme at the conference was the tension between utilities and solar developers, which Andrea Luecke, executive director of The Solar Foundation, characterized as one of the key 'wars' in the U.S. solar market.
Utilities were roundly criticized at the conference for their resistance to solar, but such speakers as James Tong, vice president of strategy and government affairs at Clean Power Finance, noted that there are now greater opportunities for collaboration between the solar industry and utilities. In that regard, NRG was singled out by one speaker for its innovative and collaborative approach to solar.
In his opening address, Alfred Griffin, president of the N.Y. Green Bank, noted gaps and inefficiencies in financing for certain segments of the solar market, such as the middle market between large-scale utility solar and residential solar, and discussed his bank's efforts to help support the development of new ventures in those markets with input and cooperation from the private sector.
Marketing matters
The conference underlined the increasing importance of new marketing strategies for solar. This was particularly evident in sessions at the event on leveraging social media in solar and on cross-marketing strategies for solar and electric vehicles.
As a number of speakers pointed out, social media has considerable value for marketing solar and educating existing and potential solar customers, but solar companies must be careful to apply it judiciously and strategically.
Carter Lavin, business development manager for the Solar Marketing Group, emphasized the importance of maintaining a presence on Twitter and Facebook for solar companies but cautioned solar companies to provide useful and regularly refreshed content, such as case studies, on those sites and avoid spewing overt sales pitches.
Mary Noyes Joynt, vice president of strategic marketing for WilkinsonShein Communications, spotlighted the company's development of a"social media hub," for Standard Solar, which aggregates diverse social media applications for the company, and has amplified the company's exposure to various audiences. She noted that consumer solar buyers can serve as important brand advocates for solar products and services, especially through social media and viral marketing.
Kelcy Pegler Jr., CEO of NRG Home Solar (formerly Roof Diagnostics), felt that the older demographic represented a largely untapped audience for solar and advised attendees to devote greater attention to that market.
Solar on the move
A number of speakers noted the increasing integration between solar technology and electric vehicles, particularly in the area of solar-powered chargers.
David West, chief marketing officer for VIA Motors, highlighted the importance of electric vehicles for the development of the solar market and noted that electric vehicle buyers are natural audiences for solar products and services. In this regard, he called attention to his company's extended-range"Sol Trux," electric truck incorporating a solar bed cover for charging on the go.
Laurence Mackler, CEO of Solaire Generation, discussed his company's innovations in solar carports and highlighted his company's Solar Park of the Future, which would integrate a wide range of renewable energy forms, including solar, geothermal, and electric vehicles, as well as other features, such as LED screens providing branded advertising.
Significant opportunities are opening up for hybrid solar/wind, solar/hydro and hybrid renewable energy in general. Miriam Tuerk, chief operating officer Clear Blue Technologies, highlighted her company's application of cloud computing to improve the efficiency and reliability of solar/wind-powered street lights. Tom Thompson, key account manager, North America, for JA Solar, described his company's role in a groundbreaking solar/hydro project in China.
A session on new innovation models highlighted diverse approaches to fostering innovation in the solar market. Martha Symko Davies, director of partnerships, energy systems integration, for the National Renewable Energy Lab, outlined that organization's extensive testing and research facilities in solar and renewable energy and stressed its interdisciplinary approach. Les Neumann, CEO of ICAN-Global, discussed the special benefits and value of his company's 'virtual' cleantech incubator.
The importance of solar monitoring and tracking was underscored at the event. As a number of speakers noted, major advances in solar monitoring and tracking systems have helped increase the efficiency and viability of solar.
Nicolas Morgan, vice president of business development and marketing Morgan Solar, illuminated key advantages of his company's microtracking solar system, which, he claims, have helped bring down solar costs significantly and improved solar performance.
Adrian de Luca, senior vice president of sales and marketing for Locus Energy, provided key insights into the special advantages of applying cloud-based software and big data in solar monitoring to remedy particular solar system deficiencies, and significantly improve solar system performance.
Robert Hoyt, CEO of Tethers Unlimited and Darel Preble, president of the National Space Solar Power Institute, outlined their visions of space-based solar. Preble provided data showing that space-based power is far more consistent and reliable than that of land-based solar and contended that space-based solar holds particularly promising opportunities for utilities. Hoyt discussed his company's development of a spacecraft called 'Spider Fab' that will enable the manufacture of such objects as solar panels in space using 3D printing.
Back on Earth, the consensus is that the solar sector is firmly rooted and has plenty of room to grow.
Michael Mascioni is a conference producer in clean energy and digital media, as well as a market research consultant and freelance writer. He served as conference producer for the SolarTech East Coast 2014 conference. Mascioni can be reached by email at mmmascioni@aol.com.