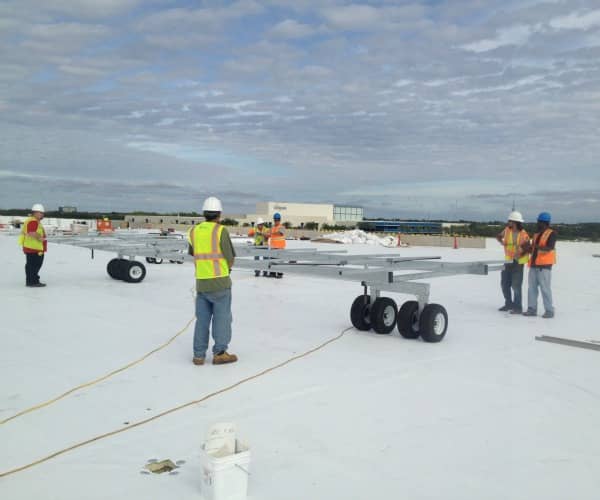 Tampa, Fla.-based Solar Energy Management has deployed a 1.5 MW rooftop solar array for Great Bay Distributors' facility in St. Petersburg, Fla.
Solar Energy Management's engineering and design team designed a galvanized racking and stanchion system that allows the roofer to tie the solar power rack stanchions into the bar choice of the flat thermoplastic polyolefin (TPO) roof. This system would be fully sealed at each stanchion by the roofer. The steel rack systems were also designed for longer runs between penetrations.
Solar Energy Management devised rack movers with double-wide tires to allow rapid movement of the heavy racks while distributing loads and, thus, preventing the tires from damaging the TPO roof and insulation.
The array features 4,590 Suniva 330 W solar panels and 51 SMA 24000 Tripower inverters. The project provides for 92% of Great Bay's energy requirements at the 280,000 square-foot building. The return on investment is estimated at six years.
Scott McIntyre, CEO of Solar Energy Management, says engineering was key to the success of the project in a state with no solar energy policy. In addition, he says, all of the components were manufactured in the U.S., including the locally sourced steel for the racking.