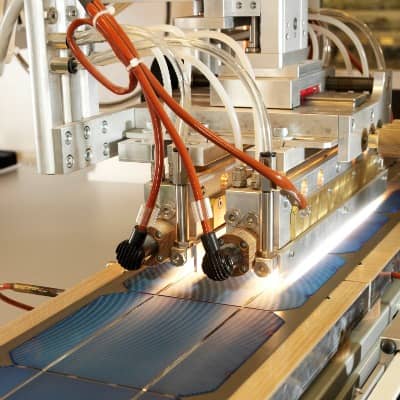 Major solar module and cell manufacturers remain unlikely to outsource a significant portion of their production and thereby establish a fabless business model, says new analysis from IHS. Although some draw comparisons between the PV industry and the semiconductor industry – where many players have gone fabless – the drive for competitive advantage among top-tier cell and module makers will keep manufacturing technology in-house and under wraps.
After years of oversupply, the supply and demand for solar devices is returning to a state of balance, IHS reports. Because of this, the firm is sticking to its forecast that global capital spending by producers of PV modules, cells, ingots, wafers and polysilicon is expected to rise by 30% in 2014 to reach right around $3 billion, the first time that expenditures will have risen since 2011.
'Some analysts have claimed that top Chinese and Japanese module makers are utilizing excess manufacturing resources from second- and third-tier manufacturers, expanding their available capacity and thus staving off any requirement for new capital spending,' says Jon Campos, solar analyst at IHS. 'Such a fabless or asset-lite strategy may have worked in other industries, where some companies with minimal or no manufacturing assets – such as Qualcomm Inc. of California – have achieved great success. However, in the PV market, where manufacturing expertise is more proprietary than in other areas, the fabless model is unlikely to be adopted on a large scale. This means that leading solar suppliers must make capital investments as demand rises in the coming years – even if extra capacity is available from other PV industry suppliers.'
According to IHS, Tier 1 Chinese crystalline suppliers have poured efforts into improving their manufacturing processes. Furthermore, the Chinese government has now made it mandatory for PV manufacturers to spend in excess of 3% of revenue on research and development and equipment upgrades.
These investments represent significant assets to the companies as they have progressed down the learning curve in the mass production of PV cells and modules. And unlike the semiconductor market, this kind of expertise cannot be purchased from equipment providers. Therefore, these companies are very risk averse when it comes to sharing their proprietary process technologies with other manufacturers, IHS says.
'The proposition that Tier 1 Chinese manufacturers would come to rely on capacity from Tier 2 and Tier 3 suppliers is highly unlikely,' says Mike Sheppard, senior PV analyst at IHS. 'The top players wouldn't give away the fruits of their efforts during the past two years to improve their technology, quality and bankability with financiers or owners. This is especially true as these companies attempt to improve their positioning relative to Western players.'
A recent study by the U.S. Department of Energy's National Renewable Energy Lab and the Massachusetts Institute of Technology found that regional demand for solar power is becoming a more significant factor than labor costs and even government industrial policy in attracting manufacturing capability. The study suggests increasing demand in the U.S. could spur a renaissance for domestic PV manufacturing.