Photovoltaic micro-inverter shipments worldwide are set to increase to 2.1 GW per year in 2017, up from around 500 MW in 2013, according to a new report from IHS. Shipments during the period are forecast to rise fourfold, expanding at a 306% rate, the report says.
Although they are more costly than conventional inverters, micro-inverters can increase the energy harvest of a system compared to conventional string or central inverter devices, which convert power from multiple solar panels, the IHS report says. Until recently, micro-inverter demand has largely been confined to the U.S. residential market. However, IHS says the industry is shifting to commercial solar systems and other regions.
'Micro-inverters have reached very high adoption rates in the United States, particularly in the residential market, where penetration will reach more than 40 percent in 2013,' says Cormac Gilligan, PV market analyst at IHS. 'However, in order to grow or maintain market share, micro-inverter suppliers now are striving to expand to new regions that at present don't use the technology. Meanwhile, the advantages of micro-inverters – including their higher energy yields, enhanced safety and module-level monitoring capabilities – are making them more attractive in commercial systems, especially in small-scale projects.'
While IHS forecasts 2013 to be the first year that micro-inverter shipments grow to more than 500 MW, it also will be a challenging year for suppliers in terms of competition and pricing.
A number of new market entrants are releasing products, including the two largest PV inverter manufacturers, SMA and Power-One. This intensifying competition will result in micro-inverter prices dropping by 16% in 2013. IHS has reported on a similar trend in the PV inverter industry generally.
Despite this double-digit price decrease, strong shipment growth will drive micro-inverter market revenue to increase to more than $250 million in 2013, IHS says. And although prices will continue to fall in the coming years, IHS predicts that revenue will reach $700 million in 2017.
According to the report, Enphase Energy retained its position as the world's dominant micro-inverter supplier in 2012 with a large share of the residential PV market in the U.S. However, as the number of microinverter suppliers has grown, the company has faced increasing competition. As a result, Enphase and all other suppliers have been targeting new markets for expansion and have been promoting the use of micro-inverters in commercial systems.
In an early sign of success for this strategy, Enphase recently announced a 2 MW commercial installation in Canada.
Almost one-third of global micro-inverter shipments in 2017 will be going to commercial systems compared to 9% in 2012, IHS forecasts. The majority of these shipments in 2017 will be for systems sized between 10 and 100 kW.
The U.S. in 2012 accounted for 72% of global micro-inverter shipments. However, the U.S. share will fall to 50% by 2017 as a result of micro-inverters penetrating into new markets in Europe and Asia, as shown in the following chart: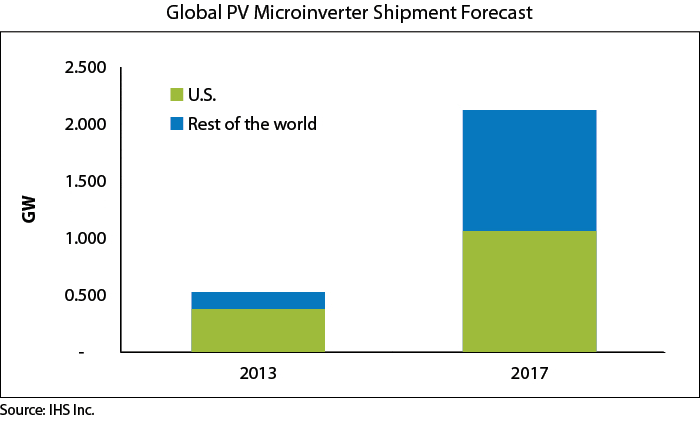 Outside of the U.S., micro-inverters are forecast to be most successful and achieve the highest penetration rates in the U.K., France, Japan and Australia. Each of these markets presents excellent opportunities for micro-inverter suppliers if they can enter quickly and overcome the unique challenges of each country.
'Japan has a very large residential market, but micro-inverter shipments have been very limited due to certification requirements and a strong preference for domestic suppliers,' Gilligan says. 'PV markets such as Australia and the United Kingdom also offer great potential for micro-inverters because they are relatively new markets with installers that are not so entrenched in using string inverters, allowing micro-inverter suppliers to more easily educate them of the benefits of their solutions.'
According to IHS, a new trend for suppliers is to offer complete solar modules that integrate micro-inverters, products known as 'AC modules.' Some micro-inverter makers are partnering with module suppliers to produce these devices.
SolarBridge Technologies and Enecsys Ltd. are some of the major suppliers now offering AC modules, and these companies have entered into a number of partnerships with module suppliers.
'AC modules allow module suppliers to differentiate themselves from the competition while allowing micro-inverter makers to take advantage of the module suppliers' sales channels,' Gilligan says. 'They also allow faster installation time as the micro-inverter is installed at the module factory rather than on-site, which can be a compelling reason for the adoption of micro-inverters.'
IHS predicts that AC module shipments will more than quadruple in 2013 and continue growing to account for 32% of total global shipments in 2017.