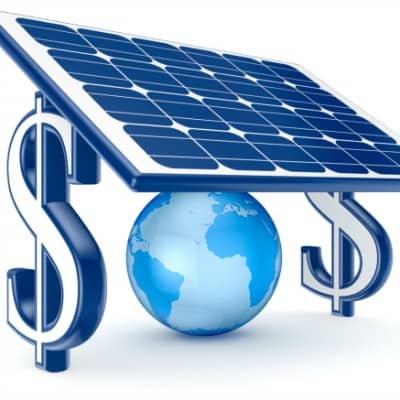 A new report from Mercom Capital Group LLC says global venture capital (VC) investments in the solar sector dropped 40% in 2013 to $600 million compared to $992 million in 2012. Nevertheless, total corporate funding for solar – encompassing VC, debt and public market financing – was up 25% in 2013 to almost $10 billion compared to about $8 billion in 2012.
According to Raj Prabhu, CEO of Mercom Capital Group, since mid-2012, the new normal for VC funding has been smaller funding quarters and smaller deal sizes.
'While venture funding levels were down, overall fund-raising was up, and public market financings were really strong in 2013,' Prabhu says. 'Higher valuations among public solar companies have opened up the capital markets again as an avenue for fund-raising at attractive terms.'
Downstream solar companies saw the largest amount of VC funding in 2013, with $262 million in 34 deals, accounting for 45% of venture funding. Investments in concentrating solar power reached $109 million in 12 deals, and photovoltaic companies were close behind with $104 million in 17 deals. Thin-film PV saw a 77% drop in funding from 2012, with $72 million in 2013 compared to $314 million a year earlier.
The Mercom report says the top five VC-funded companies in 2013 were Chinese solar project developer Heifei Golden Sun Technology, which raised $69 million; Clean Power Finance, a provider of third-party financing for distributed PV projects, which raised $62 million; Solexel, a developer of high-efficiency crystalline silicon solar modules, which brought in $55 million; Sungevity, a provider of residential solar installations, which raised $43 million; and OneRoof Energy, a developer and operator of residential solar energy generation systems, which raised $30 million.
The most active investor in terms of deal numbers was New Enterprise Associates, investing in three companies, Mercom says. New Enterprise Associates was also the top investor in 2012 with four deals. This was followed by Kleiner Perkins Caufield & Byers, PACA Investment, Firelake Capital Management, CCM US, and VisionRidge Partners – all investing in two companies each.
The report says public market financings jumped considerably to $2.8 billion in 39 deals in 2013, up from $893 million in 23 deals in 2012. In 2013, there also were seven initial public offerings that together brought in more than $1 billion.
Large-scale project funding announced in 2013 amounted to $13.6 billion in 152 deals, compared with $8.7 billion in 84 deals in 2012, according to Mercom. Announced large-scale project funding in Q4 2013 jumped as well, with $6 billion in 46 deals. The largest project funding deal announced in 2013 was the $1 billion bond financing completed by Solar Star Funding for its Solar Star 1 and Solar Star 2 projects. Top investors in large-scale projects were Kasinkornbank with 15 projects, and Bank of Tokyo-Mitsubishi UFJ with 10 projects.
Residential and commercial lease funds showed strong growth in 2013, with 22 announced funds totaling $3.34 billion, a 69 percent increase over 2012. Almost $1 billion was raised in Q4 2013 alone. Vivint Solar, SolarCity, Sunrun, SunPower, and SunEdison were top fundraisers in 2013.
The fourth quarter of 2013 was a very active quarter for large-scale project development around the globe. Mercom tracked about 220 project announcements totaling almost 9 GW in the quarter.