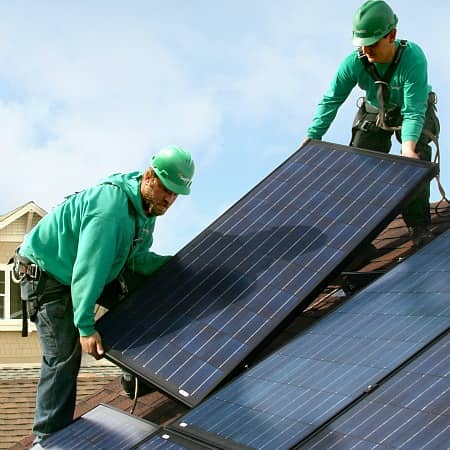 Earlier this week, San Mateo, Calif.-based PV integrator SolarCity filed documents with the U.S. Securities & Exchange Commission (SEC) that take it a step closer toward selling shares under its much-anticipated initial public offering (IPO).
The industry welcomed the news as a sign of the downstream solar market's current strength and a possible new source of hope for a solar stock market that has struggled lately. But for SolarCity, becoming a publicly traded company means that a great deal of new information about its previously opaque financial workings is now out in the open, per SEC regulations.
SolarCity is not currently profitable; it had an accumulated deficit of $70.3 million as of June 30, according to the company's Form S-1. The company lays out its case for future success by highlighting its end-to-end sales-service model, diversification into energy efficiency services, and continued expansion into new states.
Pre-IPO, several household names have already demonstrated their faith in SolarCity's model through their willingness to invest. 'To date, we have raised $1.57 billion through 23 investment funds and related financing facilities established with banks and other large companies such as Credit Suisse, Google, PG&E Corp. and U.S. Bancorp,' the company notes.
However, SolarCity has also revealed that it is under investigation by the Office of the Inspector General of the U.S. Department of Treasury, after having received a subpoena in July.
The probe, which also involves other unnamed participants in the rooftop PV industry, will determine whether SolarCity (or any of the other companies) inaccurately stated the fair-market value of their PV systems when applying for funds under the Treasury's Section 1603 cash-grant program. No specific allegations of misconduct or misrepresentation have been made against SolarCity yet, the company notes.
Rumors of 'misrepresentation' on 1603 applications have swirled in the industry for some time. Solar Energy Industries Association President and CEO Rhone Resch alluded to such behavior – and other ethically questionable practices cropping up in the solar sector – at this year's Solar Power International conference.
During his speech, Resch warned that once knowledge of these ethical lapses become public, solar power's reputation could take yet another hit at an inopportune time.Â
For SolarCity and the other companies being investigated, the discovery of wrongdoing could also bring about significant financial consequences.
'The Department of Justice could decide to bring a civil action to recover amounts it believes were improperly paid to us,' SolarCity writes in its SEC filing. 'If it were successful it asserting this action, we could then be required to pay damages and penalties for any funds received based on such misrepresentations.'
The time and resources required in order to cooperate with the investigation and any punishments incurred could also place a strain on the company, especially because the matter likely will not be formally resolved anytime soon. SolarCity anticipates that it will take at least six additional months to compile all of the required materials and provide them to the Inspector General. After that, the regulator's complete review is expected to take more than a year.
Some project valuation discrepancies between SolarCity and Treasury officials have already occurred. Earlier this month, the Internal Revenue Service (IRS) notified the company that it was conducting income tax audits of two SolarCity investment funds. Once again, the investigation focuses on the fair-market value of PV installations for which SolarCity sought cash grants.
Some projects received Treasury grants at a 'materially lower value' than what SolarCity had established in its own appraisals, thus requiring additional payments to investors or additional asset contributions, the company explains.
'We were unsuccessful in our attempts to have the U.S. Treasury Department reconsider its valuation for these systems,' SolarCity adds. Later reviews of other project valuations on which SolarCity and the Treasury disagreed may result in SolarCity's owing millions of dollars to fund investors.
Finally, SolarCity's SEC filing also briefly addresses the company's ongoing legal dispute with SunPower. In February, SunPower filed a complaint alleging that five SolarCity employees stole valuable, confidential data from SunPower's servers just before leaving SunPower for their new jobs at SolarCity.
At the time, a SolarCity spokesperson, told Solar Industry that the company maintains operational integrity – and that SolarCity's growth in the commercial PV market 'threatens' SunPower.
Since the initial announcement of the case, no significant developments appear to have taken place. Discovery has not begun and no trial date has been set, SolarCity says in its filing.
Photo credit: SolarCity