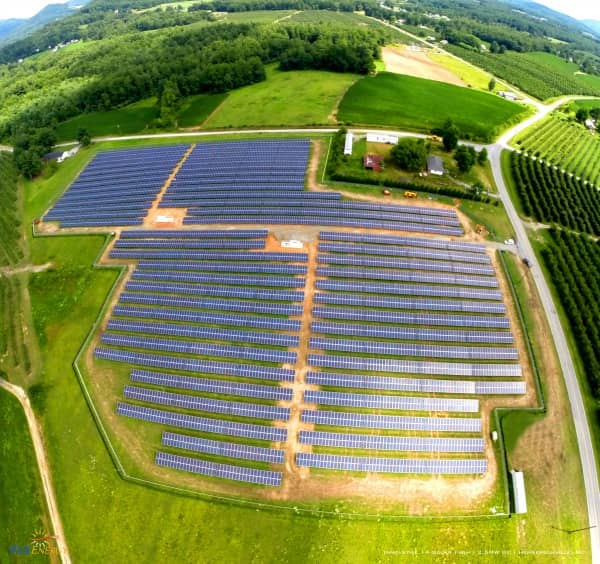 Utah-based Sustainable Power Group (sPower) has purchased equity interest in solar assets in North Carolina from FLS Energy.
The 16 fixed-tilt ground-mount facilities achieved commercial operation in 2013 and 2014 and represent a total capacity of about 63.1 MW. The portfolio, named sPower FLS North Carolina Solar 1, has 15-year power purchase agreements with Duke Energy Carolinas and Duke Energy Progress.
The 16 solar projects in the portfilio, along with the location and capacity of each, are as follows:
Innovative Solar 14, Hendersonville, 2.60 MW (pictured)
Innovative Solar 15, Ellenboro, 2.51 MW
Battleground Solar Farm, Kings Mountain, 4.25 MW
Nick Solar, Liberty, 6.50 MW
Selma Solar LLC, Selma, 6.54 MW
Wallace Solar Farm, Wallace, 2.50 MW
Beulaville, Beulaville, 2.53 MW
Kenansville Solar Farm, Warsaw, 2.59 MW
Warsaw I Solar Farm, Warsaw, 2.57 MW
Warsaw II, Warsaw, 2.58 MW
FLS Solar 170 LLC (Tom Taylor), Lumberton, 2.66 MW
FLS Solar 200 LLC (AE Israel), Lumberton, 4.71 MW
Turkey Branch Solar LLC, Fairmont, 6.53 MW
Fairmont Solar Farm, Fairmont, 5.08 MW
Ellerbe, Ellerbe, 2.35 MW
Biscoe Solar LLC, Biscoe, 6.69 MW
CohnReznick Capital Markets advised on the project. Stoel Rives LLP assisted sPower with the negotiation and documentation of the acquisition.
'A key tenet in sPower's management philosophy is seeking out partners and projects that drive growth in the solar industry,' says Ryan Creamer, sPower's CEO. 'FLS Energy is clearly amongst the most knowledgeable and successful solar energy companies on the East Coast.'