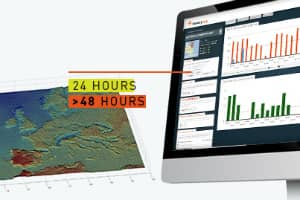 France-based developer of solar forecasting systems Steadysun has signed a research and development (R&D) agreement with the French Atomic Energy Commission (CEA) to improve the latter's solar power forecasting services.
The aim of the agreement is to enable the CEA to anticipate solar energy production down to minute intervals to facilitate its integration into electricity grids and energy markets. This project involves photovoltaic installations initially but also will encompass concentrating solar power and concentrated PV plants.
The program, with a budget of EUR 800,000 over two years, will use the CEA's equipment and demonstrators located at France's National Institute of Solar Energy. It will also enable Steadysun to benefit from the expertise of CEA laboratories on various solar production technologies.
"I am very pleased with this partnership that gives us the opportunity to expand our R&D efforts and to continue offering more and more efficient and innovative services to our customers," says Xavier Le Pivert, CEO of Steadysun.