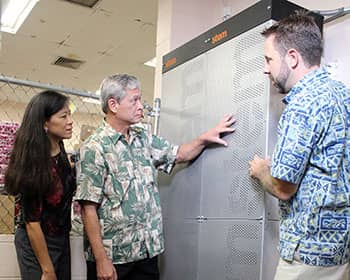 California-based Stem Inc. has installed a grid-connected 36 kW behind-the-meter battery storage system for Watanabe Floral in Honolulu.
The installation is part of a $1.2 million pilot program supported by Energy Excelerator, a collaboration between the Pacific International Center for High Technology Research, Stem and Hawaiian Electric Co.
Stem's data analytics software incorporates weather pattern information, past usage data and rate information to predict when electric use will peak. The system responds to spikes in electricity use, drawing on stored power to reduce costs for customers. Customers also receive access to Stem's software system that provides real-time visualization of energy use.
Stem's analytics will also begin to include data from Hawaiian Electric's current renewable forecasting and monitoring project.
'The Stem system helps us to monitor our solar panels and electrical demand load seamlessly to reduce our energy costs,' says Leon Dodson, chief financial officer of Watanabe Floral. 'We are thrilled that Hawaiian Electric is making this technology available to our business.'
When the combined Stem fleet of storage systems is installed, utility grid operators will be able to use the stored electricity for added stability during times of solar generation variability and peak demand.
'We see energy storage supported by intelligent software as an increasingly essential component of our business,' says Shelee Kimura, Hawaiian Electric vice president of corporate planning and business development. 'Working with innovators like Stem, we will further modernize our system, integrate more renewables, and create a more stable and efficient grid for the people of Hawaii.'