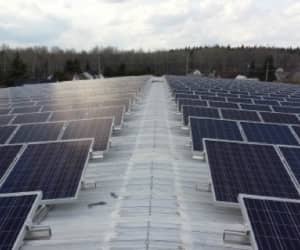 Ontario-based Strathcona Solar Initiatives has completed a 140 kW solar photovoltaic installation on the Virginiatown Community Center in the Township of McGarry, Ontario.
The 658-panel solar array on the roof of the township's community center is projected to generate C$2.15 million over the next two decades. The system is expected to produce approximately 200,000 kWh of electricity per year. Strathcona Solar Initiatives will also continuously monitor and maintain the system.
Under Ontario's feed-in tariff 2.1 program, each kilowatt-hour of solar energy the system produces will bring in a fixed price of C$0.539 cents for the next twenty years. Once the contract with the Independent Electricity System Operator is expired, the town can then use the array to generate its own free energy.
"Solar systems like this enable communities of all sizes to open up new steady revenue streams," says Yvan Brousseau, municipal solar development consultant for Solaire McGarry Solar Inc., a company that was established to specifically deal with all aspects of the solar investment.
Later this fall, three ground-mounted solar systems on single-axis trackers will be constructed – bringing the township's installed capacity up to nearly 900 kW.