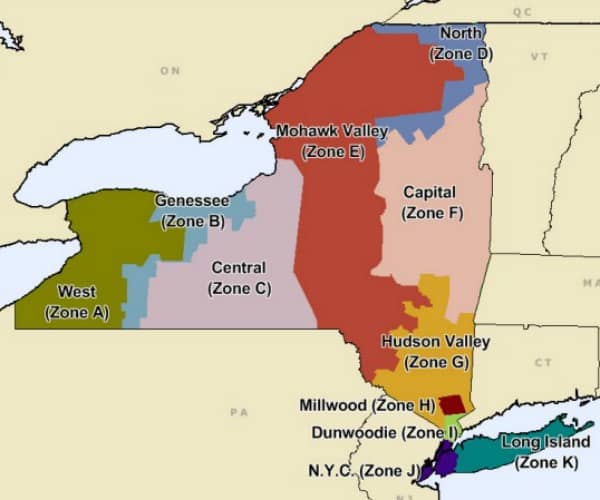 Earlier this week, SunEdison Inc. signed a power purchase agreement (PPA) with Bloomberg to power the company's Rockland County, N.Y.-based data center with 2.9 MW of solar energy.
The deal represents a relatively new structure for delivering solar energy benefits to customers. Steve Raeder, regional general manager of SunEdison's Eastern U.S. solar business, says New York's virtual net-metering rule has opened up opportunities for companies that otherwise could not benefit from on-site solar because of physical constraints.
The New York Independent Systems Operator (NYISO) has load zones designated A-K, with Zone A being in the far western portion of the state and Zone K being Long Island. SunEdison's remote net-metering program in New York allows the company to build a solar project and supply the credits it generates to an off-taker in the same NYISO load zone and utility service area. Some zones represent very sizable geographic areas, where the solar array could be located tens of miles away from the customer site.
Bloomberg's data center is located in NYISO Zone G. SunEdison says it has a site picked out for the solar array that will produce the electricity under the PPA. The contracted power is expected to generate enough electricity each year to offset more than 5% of the data center's electricity usage. Construction is set to begin next year.
'A data center is a great example of where it might be great from a power consumption standpoint, but there are a lot of reasons why a person might not want to put the panels on-site,' Raeder says.
One of the reasons is that data centers are sensitive locations. Because the operations of the facility are so critical, there is often reluctance to allow people into the facility itself either to install the system or to service and maintain it later. Though some data center operators may be willing to install ground-mounted systems adjacent to the building, land value and land-use issues may come into play. Finally, data center operators often lease the buildings they use.
'For the Bloomberg deal, off-site generation checked those boxes,' Raeder says. 'It took away the constraint around not owning the facility and then any physical constraints that there would be, which is really the theme of remote net metering.'
The net-metering credit, which is the commodity that these solar systems generate, is worth a certain amount. SunEdison says it has 80 MW in Massachusetts delivering net-metering credits in the same fashion.
New York's virtual net-metering program used to be a monetary crediting system like the one that exists now in Massachusetts. That has since changed to a volumetric calculation based on kilowatt-hours, which means less money for developers.Â
The new New York rule grandfathers existing projects, and the project at the heart of the SunEdison and Bloomberg deal falls into that category. Raeder says SunEdison has a number of projects on the books in New York that are also grandfathered.
'Utilities look at the volumetric calculation as more favorable,' Raeder says. 'It was a little bit of a setback for folks like us. But, our cost structure continues to drop. Things like that may cause some temporary discomfort, but in the long term, it may add more survivability for the market.'