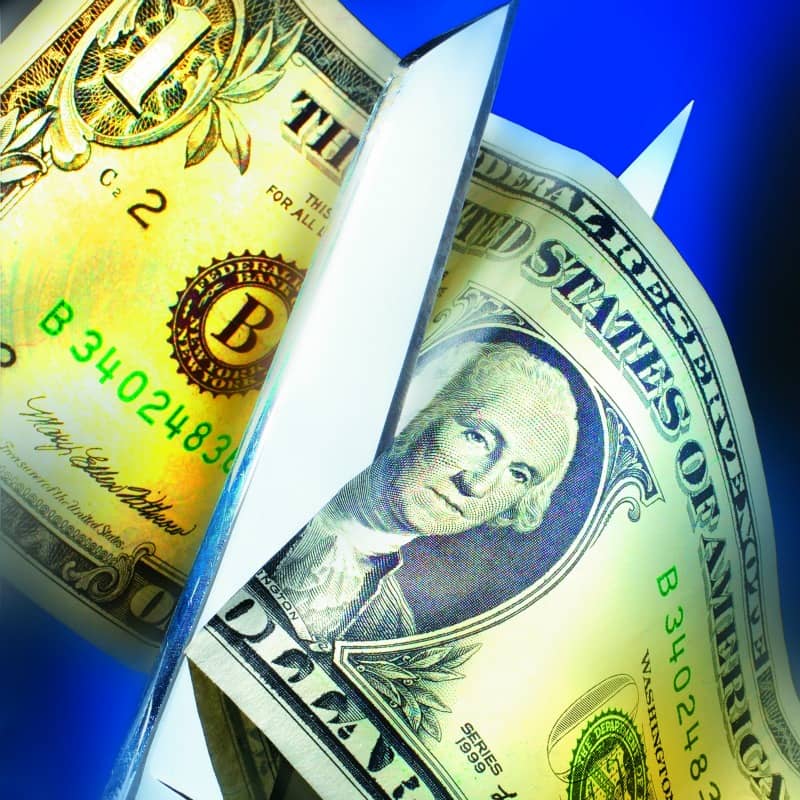 A total of $1.2 trillion in spending cuts looms as the U.S. Congress' Joint Select Committee (JSC) begins work on trimming the U.S. budget. For the renewable energy sector, the most important message right now is that during the JSC negotiation process, no department, program or incentive is considered safe from the axe.
'JSC has been given wide authority to craft a package of spending reductions,' said Ben McMakin, a partner at law firm Van Ness Feldman, during a recent webinar sponsored by the firm. 'We'll see proposals across the gamut as this process unfolds.'
Under the JSC's operational rules, all spending cuts (or tax increases) to be counted toward the required $1.2 trillion in budget savings must be approved by a bipartisan majority.
The 12-member committee, led by Sen. Patty Murray, D-Wash., and Rep. Jeb Hensarling, R-Texas, is working under an extraordinarily tight deadline – by Washington standards. The Congressional Budget Office must review and score a completed proposal from the JSC by Nov. 23, and Congress will vote by Dec. 23. The finalized plan determines federal spending through fiscal 2021.
But if the JSC fails to produce an agreed-upon plan in time, sequestration will force across-the-board spending cuts, McMakin explained, adding that the threat of sequestration is designed to intensify the pressure on JSC members during their discussion period.
(During an informal poll of webinar participants, a full 68% of respondents expressed little faith in the committee and did not expect the JSC to meet its deadline.)
Whether through a JSC decision or sequestration, several key renewable energy funding programs and incentives – as well as the U.S. Department of Energy's (DOE) renewable energy research initiatives – could fall victim to cuts.
'At this point in the process, it's really not possible to identify what the outlook is for individual departments and programs,' McMakin stressed.
Nevertheless, based on Congress' previous budget wars and prevailing sentiment toward certain programs, some elements of the budget that support renewable energy have emerged as more vulnerable than others.
'There are several energy-related tax provisions that could be targeted in order to raise additional revenue,' warned Michael Platner, senior tax counsel at Van Ness Feldman. 'If the committee begins to look at tax reform more broadly, they could look at all [provisions] that are considered tax expenditures.'
These provisions – many of which expire at the end of this year – include the U.S. Department of the Treasury's popular Section 1603 cash-grant program.
According to Platner, this program has a 'fairly slim' chance of being extended. Because it was enacted in 2009 as part of the controversial American Recovery and Reinvestment Act, many Republicans have historically railed against it.
Moreover, he added, extending any tax provision of this type would result in lost revenue on the budget side – which directly opposes the very goal of the JSC.
The investment tax credit and production tax credit may have a better chance of long-term survival, but their extension still faces an uphill battle.
'As we're looking at all energy incentives in this mode of trying to reduce deficit and cut spending, it's going to be really difficult to extend any energy incentives,' McMakin noted.
Clues as to how funding for the DOE may fare as the JSC does its work can be found in past budget studies and plans from Congress and the Obama administration. McMakin pointed out that the president requested an increase in overall DOE funding (to approximately $31 billion) for fiscal 2012, for instance, but both the House and the Senate passed recommendations calling for decreases to approximately $25 billion.
As a general rule, these historical discrepancies, coupled with the current political climate, suggest reduced – or, at best, flat – funding levels for the DOE in the future, McMakin said.
Although some cuts may be inevitable, lobbying efforts from various industries have kicked into high gear, and for the renewable energy sector, now is the time to jump into the fray.
'Education and engagement will be required to protect and promote your interests,' said Lisa Epifani, a member at Van Ness Feldman. In particular, she recommended that renewable energy companies and their political-action partners be ready to demonstrate exactly how their sector's incentives lead to job growth – the top-of-mind concern for most policymakers right now.
The preferred advocacy pathways for reaching the crucial JSC decision-makers remain unclear. Other committees may send markups to the JSC, and the JSC may bounce ideas off committees for reaction. 'Some might not provide formal recommendations, because that might negotiate against their own interests,' Epifani pointed out.
In any case, she suggested that renewable energy firms and organizations stay engaged with their political allies and consider both traditional and creative means of lobbying. Unconventional alliances, for instance, may prove to be compelling to the JSC.