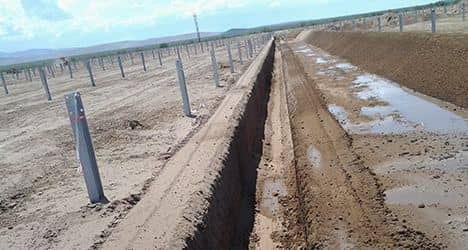 Swinerton Builders has chosen Blymyer Engineers as the engineering firm of record for the Springbok 2 solar project in California.
The three-phase project involves developing 350 MW of photovoltaic solar generating capacity over approximately 2,000 acres of formerly underdeveloped grazing and agricultural lands over multiple project sites in Kern County.
Blymyer Engineers has already provided engineering services for the 105 MW Springbok 1 project.
The Springbok 2 solar farm is a 150 MW PV project that will mount Trina TSM 315 W modules on single-axis trackers from Array Technology Inc. SMA is supplying its Sunnycentral 2200 inverters. Power will be transmitted to the grid via one or more generation tie lines connecting to the Los Angeles Department of Water and Power's Beacon Substation.
The scope of Blymyer Engineers' work on the project includes preparing PV system projections, site plans and general arrangement drawings, and complete electrical design. Additionally, Blymyer Engineers is working on structural designs, including inverter foundations and single axis tracker foundations.