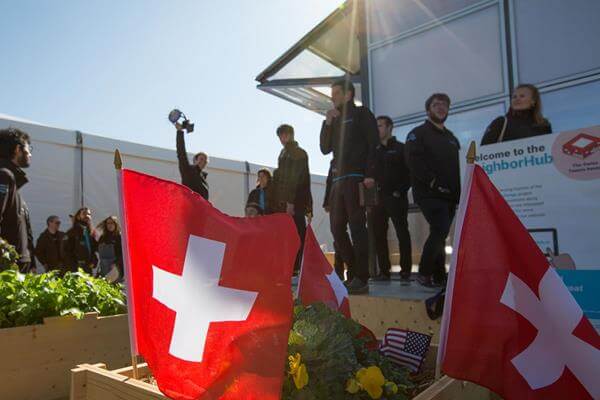 On Saturday, Acting Assistant Secretary for Energy Efficiency and Renewable Energy Daniel Simmons announced the winning team of the U.S. Department of Energy's (DOE) Solar Decathlon 2017. Hundreds of collegiate students from the U.S. and Europe recently assembled in Denver to showcase their energy-efficient, innovation-packed solar houses for the competition.
According to the DOE, the Swiss Team took first place overall by designing, building, and operating the house that best blended smart energy production with innovation, market potential, and energy and water efficiency. The University of Maryland took second place, and the University of California, Berkeley, and University of Denver team took third place.
"The U.S. Department of Energy Solar Decathlon provides real-world training and experience for the energy professionals of tomorrow," said Acting Assistant Secretary Simmons. "It is also a live demonstration of innovative products available today that can help tackle global energy challenges such as energy reliability, resilience, and security."
The collegiate teams competed in 10 contests throughout a nine-day stretch that gauged each house's performance, livability, and market potential. They performed everyday tasks including cooking, laundry, and washing dishes, which tested the energy efficiency of each house.
"This prestigious competition engages students from across the country and internationally to develop the skills and knowledge to become the next generation of energy experts, and I want to recognize all of these teams for their hard work and dedication," said Linda Silverman, director of the Solar Decathlon. "Today's results are the culmination of two years of collaboration among students from different academic disciplines including engineering, architecture, interior design, business, marketing, and communications, who otherwise might not work together until they enter the workplace. Together, we're ensuring that employers have the qualified workers they need to support American job growth."
The results of the Market Potential and Engineering Contests were also announced on Saturday. According to the DOE, Northwestern took first place in market potential by scoring 92 of 100 possible points. For the Market Potential Contest, each competing house was evaluated by a jury of professionals from the homebuilding industry that evaluated the overall attractiveness of the design to the target client and the market impact potential of the house. Some of the criteria included appeal and marketability for the target client, the livability in meeting the target client's unique needs, the house's cost effectiveness, and how easily the competition prototype could be constructed successfully by a general contractor.
Team Netherlands claimed second place in the Market Potential Contest with 90 points, and Team Daytona Beach took third place with 85 points.
The Swiss Team took first place in engineering with a perfect score of 100 possible points. For the Engineering Contest, each competing house was evaluated by a group of prominent engineers who determined which house best exemplifies excellence in innovation, system functionality, energy efficiency, system reliability, and documentation through their project manual and construction drawings.
Find detailed contest results and overall scores here.