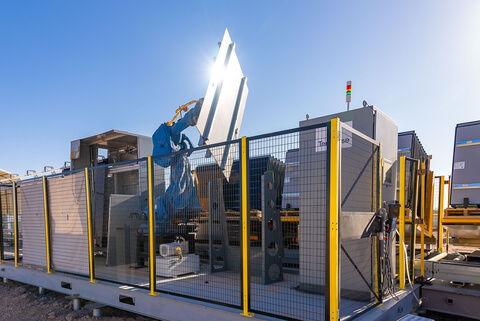 Terabase Energy has completed its first commercial project, installing 17 MW of the 225 MW required for the White Wing Ranch project in Arizona, using its Terafab construction automation platform.
The Terafab system enabled the project to achieve various milestones:
Provided workers with shaded and cooled working conditions to allow for system operation in a desert environment
Eliminated the manual lifting of heavy steel tubes and solar panels
Increased labor productivity by 25% compared with manual installation
Enabled 100% return of PV module packaging for reuse by the manufacturer.
The project was carried out in collaboration with developer Leeward Renewable Energy and EPC contractor RES.
"This milestone marks a pivotal moment in our mission to accelerate solar power plant deployment to meet the terawatt scale demands of the future," says Matt Campbell, CEO of Terabase Energy.
"Our partnership with Leeward Renewable Energy and RES has not only validated the efficacy of the Terafab system but also laid the groundwork for future projects. Furthermore, the Terafab system was deployed alongside our Construct digital twin software for managing and monitoring solar power plant construction, demonstrating interoperability of our existing product offerings with physical field applications," he adds.
"The benefits demonstrated by this project underscore the transformative potential of automation in advancing solar construction practices, enabling us to accelerate and de-risk our project pipeline," adds Leeward's Sam Mangrum. "As the renewable energy landscape continues to evolve, LRE is committed to embracing cutting-edge technologies and partnering with innovators like Terabase Energy."