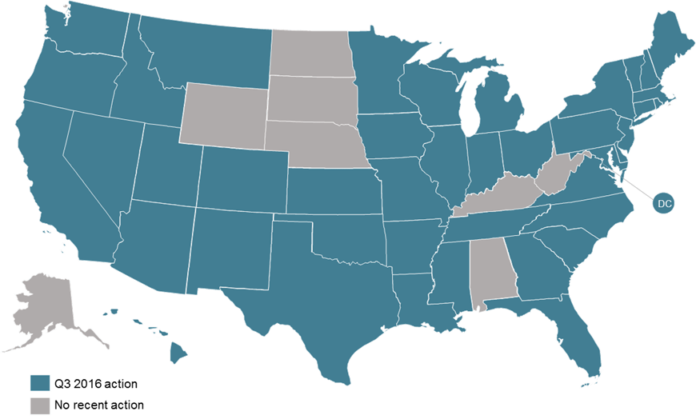 Forty-two U.S. states and the District of Columbia took some form of action on distributed solar policy and rate design changes during the third quarter of this year (Q3'16), according to a new report from the N.C. Clean Energy Technology Center (NCCETC). Of the 117 state and utility-level changes that were proposed, pending or enacted in the quarter, the report says the most common were related to residential fixed charge increases (44), followed by net metering (31), and solar valuation or net-metering studies (17).
In the latest edition of its quarterly "The 50 States of Solar" report, the NCCETC offers the following key findings of Q3'16:
– 44 utilities in 25 states plus D.C. had pending or decided requests to increase monthly fixed charges on all residential customers by at least 10%;
– 22 states considered or enacted changes to net-metering policies;
– 15 states plus D.C. formally examined or resolved to examine some element of the value of distributed generation or the costs and benefits of net metering;
– nine states took policy action on community solar;
– nine utilities in seven states proposed adding new or increasing existing charges specific to rooftop solar customers;
– three states had policy action on third-party solar ownership laws or regulations; and
– three states had action on utility-owned rooftop solar policies or programs.
Autumn Proudlove, lead author of the report and senior policy analyst at the NCCETC, said, "We're continuing to see more states consider changes to net-metering credit rates and, more recently, to credit rates for community solar subscribers. However, there is much debate over what these rates should be set at – proposals range from avoided cost to value of solar to time-varying or location-based rates."
The NCCETC notes that, for the second quarter in a row, utility proposals to increase residential fixed charges were the most common type of solar policy and rate design action. The report says all 10 residential fixed charge decisions made during Q3'16 granted utilities at least a partial increase, with utilities receiving on average 53% of their requested increase. This is in contrast to Q2'16, in which most utilities were not granted any fixed charge increase, the report adds.
The report also says the top five distributed policy developments of Q3'16 were the following:
– The Arizona Corporation Commission's delay of a decision on demand charges and net metering in the UNS Electric rate case until the state's value of distributed generation proceeding concludes;
– The Public Utilities Commission of Nevada's approval of a settlement agreementgrandfathering in existing net-metering customers in the state;
– The Arkansas Public Service Commission's evaluating net-metering credit rate issues;
– A pending Xcel Energy Colorado settlement agreement that dropped proposed grid access charges in favor of time-of-use rates; and
– The National Association of Regulatory Utility Commissioners' release of a draft distributed energy resource compensation manual.
"Overall, there's been a shift away from abrupt changes to net-metering policies," noted David Sarkisian, report co-author and policy analyst at the NCCETC. "More states are now conducting valuation studies and stakeholder proceedings, implementing pilot programs, and proposing gradual changes, rather than enacting drastic changes to net metering."
More information on the report is available here.
Chart courtesy of the NCCETC