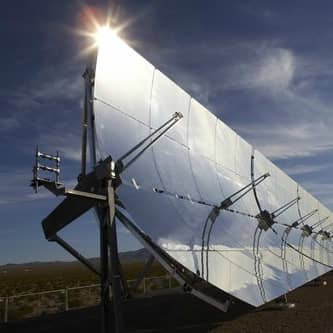 Solar Millennium AG and solarhybrid AG, both based in Germany, have entered into an agreement under which solarhybrid will acquire Solar Millennium's solar project portfolio in the U.S. Southwest. According to the companies, the entire project pipeline – which totals 2.25 GW – will be converted to PV technology.
The company's three main projects in the U.S – the 1 GW Blythe project, the 500 MW Palen project and the 500 MW Amargosa Farm Road project – were all originally planned as concentrating solar power (CSP) plants.
Development of the massive Blythe plant, currently under way in California, has already undergone some twists and turns this year, as CSP continues to fall out of favor for large-scale solar development in the U.S.
In April, Solar Trust of America (Solar Millennium's parent company), U.S. Department of Energy Secretary Steven Chu and Jerry Brown, governor of California, celebrated the finalization of Blythe's $2.1 billion loan guarantee.
'By the time we're done, the Blythe solar power plant will generate more concentrating solar power than all the other CSP plants currently operating in the world combined,' proclaimed Uwe Schmidt, chairman and CEO of Solar Trust of America, during a conference call at the time.
However, four months later, the company announced that the first 500 MW of the project would be converted to photovoltaic technology. Moving away from CSP represents a 'more attractive strategy for the company in the current market,' Solar Trust of America explained in its announcement.
The Blythe plant was not alone in being converted; other utility-scale plants under development, including K Road Power Holding Co.'s 850 MW Calico solar project, have also been switched to PV. Developers have cited better project financeability and reduced land impact as primary reasons for turning to PV technologies.
solarhybrid USA, a wholly owned subsidiary of solarhybrid AG, will serve as general contractor and perform the engineering, procurement and construction duties for Solar Millennium's plants. Construction may begin on the Blythe plant as early as 2013.
Earlier this year, Solar Trust of America and solarhybrid entered a project development partnership that was intended to focus on both PV and CSP power plant development in North America. The details of the companies' latest deal contains no indication that CSP will still be in the mix.
Solar Millennium says it will now focus on CSP and hybrid power plants in Europe, Asia, North Africa and Latin America, although it is still expected to retain a financial stake in its U.S. projects.
The agreement stipulates that Solar Millennium will receive a significant profit-share upon construction of the power plants in the U.S., in addition to being reimbursed its entire investment in the projects. (The companies declined to release specific financial details.)
The deal is expected to be finalized this month, subject to additional due diligence by solarhybrid. Other companies may also enter the arrangement as it is finalized.

Photo credit: U.S National Renewable Energy Laboratory