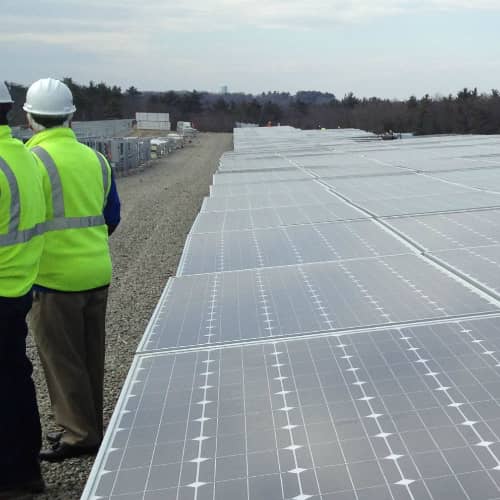 UPDATED:
'Is there a solar time bomb being built in Canton?' asks the website cantonsolarexposed.com.
Southern Sky Renewable Energy's (SSRE) PV project under construction in Canton, Mass. – the alleged 'solar time bomb' – began development as a fairly standard 5.6 MW installation atop a closed landfill. In recent months, however, the Canton Solar Exposed operation – organized by a Massachusetts union group – has launched an aggressive protest against SSRE and the town of Canton, calling the project illegal and dangerous.
The Canton Solar Exposed website, which is run by the International Brotherhood of Electrical Workers' (IBEW) Boston division, Local 103, includes explosion-laden imagery and links to news stories about methane-induced fires at various (non-solar-hosting) landfills. Similarly dramatic postcards mailed to Canton residents expressed concerns about the installation and urged them to contact town officials.
Developers routinely site PV projects on capped landfills without incident in the U.S. and in other countries. Frank McMahon, principal at SSRE, says the Canton project followed standard permitting procedures for this type of installation.
'The Canton landfill solar project is properly zoned and has been granted a post-closure use permit from the Massachusetts Department of Environmental Protection (MADEP),' McMahon tells Solar Industry.
Furthermore, he says, 'MADEP's permitting process included an in-depth analysis of landfill gas produced at the Canton landfill and found no threats to public safety.'
Local 103 believes the danger lies above ground. According to the group, SSRE and its contractors violated Massachusetts law during construction of the Canton project by allowing installation of some plant components by non-electricians and before an electrical permit for the site was issued.
Under the state's law, all PV array support structures – including racking components – must be properly grounded and bonded by licensed electricians, Sean Callaghan, business agent for Local 103, tells Solar Industry.
He cites a 2008 decision from the Board of State Examiners of Electricians regarding required licensure for PV installers. A letter from Richard Fredette, then executive director of the board, states that installing 'hardware [and] mounting brackets was reasonably understood as engaging in the occupation of installing apparatus, devices, fixtures, or other appliances – which requires licensure.'
Therefore, per Local 103's timeline, electrical work was performed at the site beginning Jan. 25, before the electrical permit was issued Feb. 7. Local 103 says it filed a complaint with the Massachusetts Department of Professional Licensure (DPL) on Feb. 5.
SSRE and Canton town officials have maintained that any pre-Feb. 7 site work did not involve the installation of any components requiring an electrician.
'Installation of the racking system falls under the building permit – not the electrical permit – and is not electrical in any way,' McMahon says. 'All electrical work is being completed by Massachusetts-licensed electricians.'
However, the electrical contractor that SSRE selected is not a union company – a fact that, according to SSRE and some Canton selectmen, motivated Local 103's entire opposition campaign.
In an April 18 letter to the editor published by the local newspaper, Canton Citizen, SSRE explained that five union electrical contractors were provided with bid documents for the solar project after the local IBEW expressed an interest in involving union members with the project.
Three union companies failed to apply for the job by the deadline. 'The two remaining union electrical contractors submitted bids that were in excess of three times the total budget for the work indicated in the bid documents,' SSRE wrote in its letter. 'Consequently, they were not selected to perform the electrical work.'
Callaghan concurs that he and his colleagues visited the Canton project site last year to provide the subcontractor with a list of union companies. However, he says, one bidder subsequently reached out to Local 103 and pointed out that the job description did not call for licensed electricians to install the array's support structures.
'We then contacted the town, the solar company and the general contractor,' he says. 'We told them, 'You're requiring bidders to violate state law. This is a serious safety issue.''
However, Callaghan says, when the concern was brought to the attention of SSRE and town officials, they failed to acknowledge his complaint, and construction began on the project. Local 103 then warned that it would make the issue public – a threat that turned into reality when the cantonsolarexposed.com website and postcards were created.
Canton Board of Selectmen Chairman John J. Connolly, whose judgment was called into question in Local 103's mailings to residents, has sought to reassure the town and, like SSRE, characterized the dispute as a union issue.
'Please consider the motivation of the IBEW,' Connolly wrote in a letter to residents. 'We believe their involvement is solely motivated by money and union jobs – and not as a result of any real concern for the safety of any Canton resident.'
Citing support from non-union contractors and state groups, Local 103 has denied its campaign is 'political' and pledged to keep pressing the issue. Its most recent attacks center on SSRE's lack of prior experience with PV projects on landfills, as well as the general incidence of electrical fires in Massachusetts.
Callaghan says he expects a decision on the DPL complaint shortly. The exact penalties – if applicable – have not yet been determined, but if the state finds that the project violates state law, SSRE and its project partners may be required to dismantle completed portions and have licensed electricians re-install the support structures.
Throughout the entire ordeal, he adds, neither SSRE nor the Canton Board of Selectman has directly responded to his inquiries.
For now, construction of the solar plant is quietly continuing. According to McMahon, the project remains on schedule and is expected to be interconnected this summer.
Photo: Workers at the Canton solar project in February. Photo credit: Southern Sky Renewable Energy