Solar electric power tripled in the U.S. between 2012 and 2014, with 10 states responsible for 86% of the nation's solar electricity capacity, according to a new report by the Environment America Research & Policy Center.
Solar policies are closely correlated with solar ranking, the report says. All of the top 10 states in the report for solar capacity per capita – Hawaii, Arizona, Nevada, California, New Jersey, New Mexico, Vermont, Massachusetts, North Carolina and Colorado – have some combination of policies that directly contribute to the growth of solar capacity, the report found.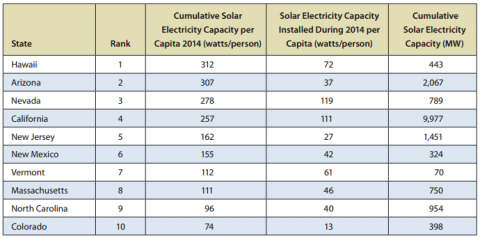 Policies among the top 10 states include the following:
Nine have strong net-metering policies and, in most, consumers are compensated at the full retail rate for the excess electricity they supply to the grid;
Nine have strong statewide solar interconnection policies;
All have renewable portfolio standards (RPS) and eight have carve-outs that set specific targets for solar;
Nine allow creative financing options, such as third-party power purchase agreements; and
Nine allow property assessed clean energy (PACE) financing.
'Our analysis shows that policy choices are a key driver of solar energy growth,' says Gideon Weissman of Frontier Group, co-author of the report. 'State and local government policy leadership is closely aligned with success in growing solar energy.'
Rhone Resch, president and CEO of the Solar Energy Industries Association, says that over the last five years, the solar sector has become one of the fastest-growing industries in the U.S., with an estimated annual value of $18 billion and currently employing 174,000 workers. However, for this growth to continue, he says, stable and effective state and federal public policies, such as the federal investment tax credit, state RPS, PACE financing and net energy metering, need to be extended and even expanded.
'Environment America's new report correctly points out that smart public policies and the development of clean, affordable solar energy go hand in hand,' Resch says.
To download the report, click here.