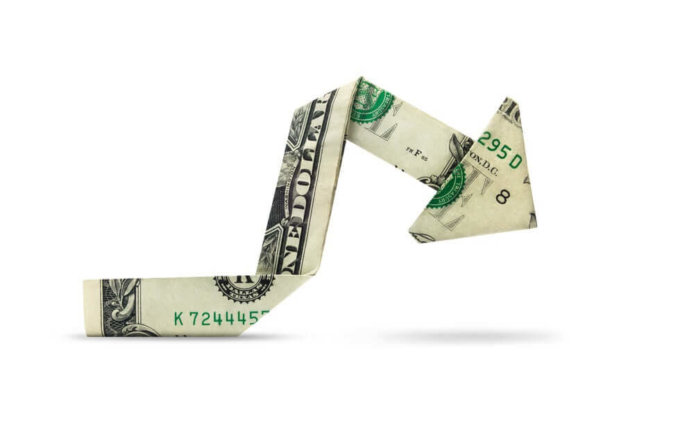 According to new research, the U.S. has entered a "coal cost crossover," meaning the majority of existing coal plants are increasingly more expensive than new sources of cleaner energy.
Vibrant Clean Energy (VCE) and Energy Innovation have released a new report, "The Coal Cost Crossover: Economic Viability Of Existing Coal Compared To New Local Wind And Solar Resources," which claims new wind and solar power could replace roughly 74% of the U.S.' current coal fleet at an "immediate savings" to customers. Moreover, by 2025, this number would grow to 86%, according to the report.
To determine which coal plants are facing a "cost crossover" with renewable energy, Energy Innovation teamed with VCE to compile a dataset of coal, wind and solar costs. It compares each coal plant's marginal cost of energy to the lowest levelized cost of energy for wind or solar resource localized around the coal plant (within 35 miles).

The research finds that as of the start of 2018, 211 GW of existing U.S. coal capacity – or 74% of the national fleet – was at risk from local wind or solar that could provide the same amount of electricity but at a lower cost (on a kilowatt-hour basis). Further, by 2025, the total of at-risk coal plants increases to 246 GW, which represents nearly the entire U.S. fleet, the report says.
In addition, at the start of 2018, 94 GW of existing U.S. coal capacity was deemed substantially at risk, meaning new local wind and solar could beat coal costs by at least 25%. By 2025, this number increases to 140 GW, even as federal tax credits for renewable energy phase out.
The report offers the following maps for reference: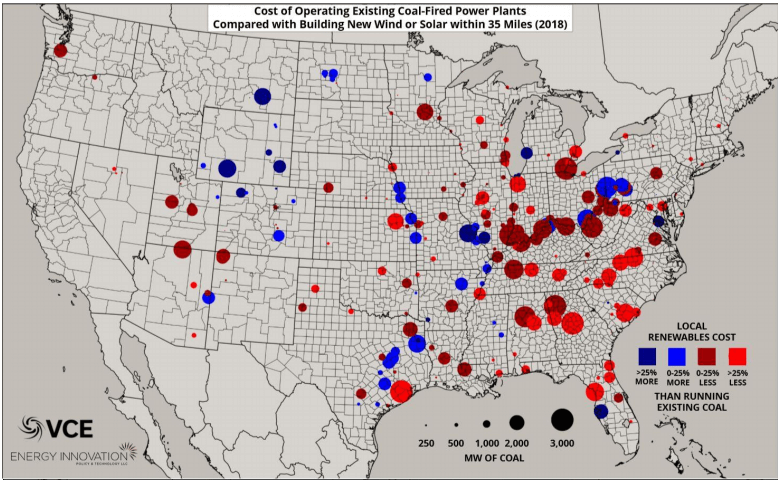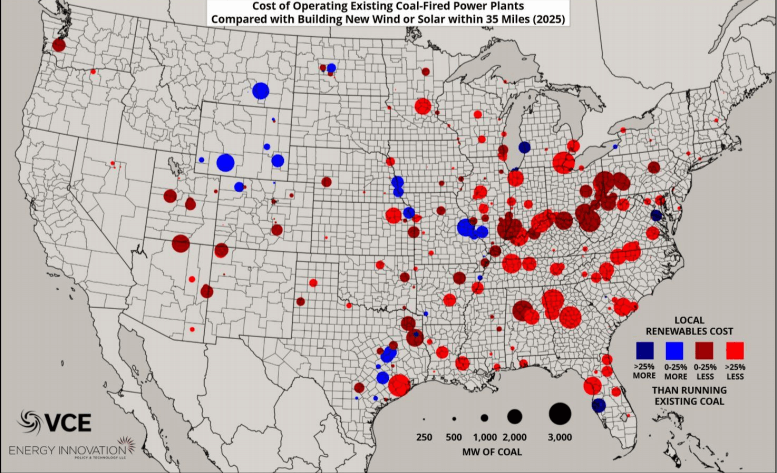 On a state-by-state basis, North Carolina had the most amount of coal capacity deemed substantially at risk in 2018, with 10,990 MW, followed by Florida with 9,954 MW and Georgia with 6,614 MW. Texas and Indiana rounded out the top five with 6,554 MW and 6,440 MW, respectively.
The report notes that restricting replacement to local resources makes the analysis conservative, considering most coal, wind and solar travel from remote locations to load centers via transmission. It also points out that VCE compiled data from approximately 286 GW of coal-fired power plants as of Jan. 1, 2018, and since then, some retirements have occurred.
In conclusion, the report suggests a "sunset scenario" for U.S. coal:
"Not all plants will retire immediately – a steady flow of exits is more likely, especially where capacity markets and monopoly utilities support uneconomic coal generation at the expense of new renewables, but all stakeholders must prepare for the looming economic reality," the authors write.
Ultimately, though, the authors note that the report "begins a longer conversation about the most cost-effective replacement for coal, which may include combinations of local or remote wind, solar, transmission, storage and demand response."
Mike O'Boyle, co-author of the report and director of electricity policy at Energy Innovation, points out that the results of the report do not signify that coal is "dead"; rather, he says, "many of these coal plants are owned by monopoly utilities that can pass costs on to customers, and retiring them requires action by state regulators."
"But our research shows U.S. coal plants are in more danger than ever before," O'Boyle continues. "Already under threat from cheap natural gas and wind energy, they now face serious threats from solar power, because solar prices have fallen 90 percent since 2009 and are projected to continue declining through 2025.
"The looming coal retirement wave and unavoidable decline of renewable energy prices means regulators must start planning for a massive turnover of U.S. power plants from coal to clean. That means figuring out which clean generation replaces existing coal plants and starting an economic transition for communities dependent upon coal generation."
O'Boyle adds that coal's "biggest threat" is now economics, rather than regulations; i.e., the Trump administration's "efforts to cut environmental regulations are too little, too late to save coal."
Eric Gimon, senior fellow at Energy Innovation and co-author of the report, clarifies that the report does not "try to predict the future of coal plants" but, rather, "highlights the growing opportunity for utilities to reduce consumer costs by replacing the expensive fuel and maintenance costs of existing coal with cheap and clean, local renewables."
"We anticipate that as the savings from switching to renewables become clearer to stakeholders, more utilities will choose to wind down their coal portfolio," he explains.
"Fundamentally, the dynamic here is accelerating cost reductions for renewables like wind and solar that are taking advantage of economies of scale for deployment and free fuel. Generation that burns coal to drive steam turbines is a mature and fairly simple technology with very little room to cut costs.
"We should not interpret the red ink as an imminent wave of coal retirement," he concludes, "but, rather, as an indicator that big changes are ahead, as the much broader availability of cheap solar and continued access to more geographically limited, high-quality wind resources fundamentally changes the math for future generation."