The U.S. added 976 MW of new solar photovoltaic capacity during the second quarter of 2013 (Q2'13), up 24% from 788 MW in the first quarter (Q1'13), according to the latest NPD Solarbuzz North America PV Markets Quarterly report.
During Q2'13, 72% of solar PV installations were ground mounted, with the remaining 28% from residential and commercial rooftops, the report says. According to NPD Solarbuzz, utility-based PV projects accounted for 59% of quarterly demand, with the remaining 41% split between commercial and residential installations.
Strong demand continues to come from the ground-mount utility segment. Pacific Gas and Electric (PG&E) has recently completed several large-scale projects within California, including the California Valley Solar Ranch, phase three of Topaz Solar, phase two of Antelope Valley Solar Ranch and Gates Solar Farm. Other large ground-mount projects include the Arizona Public Service Agua Caliente plant and phase one of PG&E's Copper Mountain Solar 2 in Arizona.
'In Q2'13, new PV installed in California alone reached 521 MW, which is a new record for PV added by any state in the U.S. for a three-month period and 53% of PV added in the U.S.,' says Finlay Colville, vice president at NPD Solarbuzz. 'California has added 1.6 GW in the past 12 months, with a further 1.1 GW forecast for the second half of the year.'
Quarterly solar PV demand in the U.S. is forecast to grow 14% to 1.04 GW in Q3'13. During the second half of the year, NPD Solarbuzz says Arizona and North Carolina together will add 400 MW, and an additional 500 MW will come from New Jersey, New Mexico, New York and Texas.
Outside the established U.S. state markets, new solar PV markets are developing. In particular, North Carolina is forecast to grow by 80% this year to reach 285 MW, with further growth of 30% in 2014, the report says. As the leading project developer in the state, Strata Solar completed almost 100 MW of projects during the 12-month period ending in June.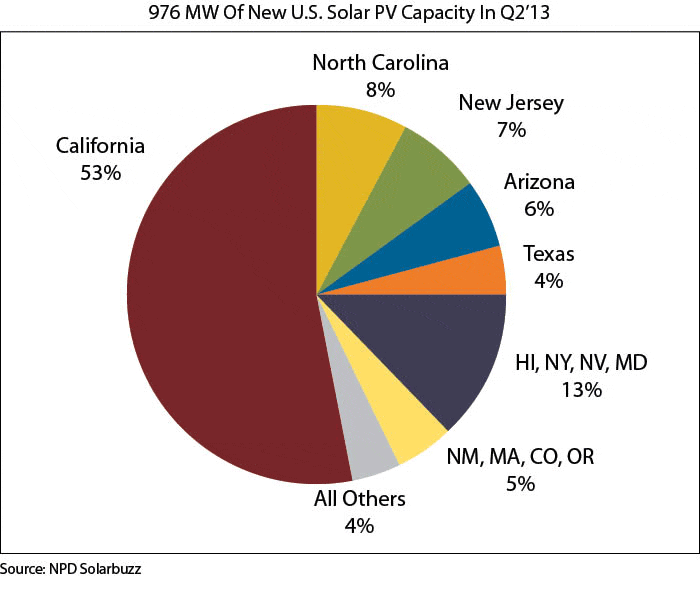 According to NPD Solar Buzz, First Solar continued to lead module suppliers to the U.S. market between Q3'12 and Q2'13 with a market share of 22%, followed by SunPower at 12%. Leading tier-one Chinese suppliers Yingli Green Energy, Trina Solar, Canadian Solar and Suntech filled the next four ranking positions and collectively supplied 27% of U.S. market demand.
U.S. PV demand for 2013 is forecast to increase 17% to reach 4.22 GW. NPD Solarbuzz expects 2014 PV demand to exceed 5.3 GW. Further growth over the next five years will result in the US having 20% of global PV demand. The pipeline of commercial and utility projects now exceeds 44 GW in the U.S., the report says. This pipeline includes more than 2,300 projects of 50 kW and higher, with commercial applications accounting for more than half of the total.