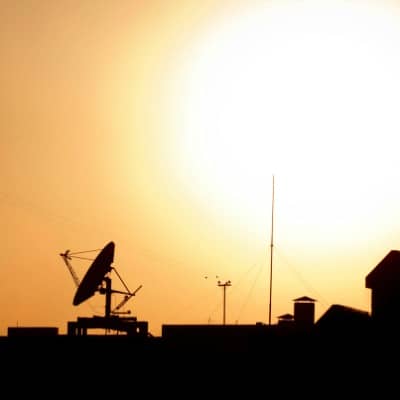 The U.S. Army Corps of Engineers' Engineering Support Center in Huntsville, Ala., has selected 22 solar technology contractors to receive Multiple Award Task Order Contracts (MATOCs) under the solar portion of its $7 billion program to create renewable energy generation capabilities at Department of Defense (DOD) installations. The awards do not cover specific projects but grant the named contractors the right to bid on solar projects as they arise.
In issuing the awards, the Huntsville Center is acting in concert with the Army's Energy Initiatives Task Force (EITF) as part of the Army's Renewable and Alternative Energy Power Production for DOD Installations effort announced in August 2012. The program is granting MATOC awards in four batches, of which solar is the second. A geothermal MATOC was awarded May 3. Still to come are awards for wind and biomass contractors, which the Army says will be named in two announcements before the end of the year.
The Army says the renewable energy contractors that are qualified through this process will be able to compete for future projects within their approved technology area for so-called"task orders," made under the program. The MATOCs will be applicable for up to 30 years, which will enable the DOD to enter into long-term purchase power agreements for renewable energy.
According to Tonju Butler, procuring contracting officer at the Engineering Support Center, the Army's goal in the solar awards was not to ensure a mix of technical specialties but qualify solar companies that would be able to meet its specifications.
In order to qualify for a MATOC award, a solar company had to receive a rating of acceptable or better according to requirements set out in the solicitation. Butler says these requirements included a description of a solar project of 2 MW or greater for which the candidate had responsibility for implementation and then for operation and maintenance for at least two years.
'Relevant solar projects include all technologies that utilize the sun as a source of power,' Butler says. 'This may include but is not limited to PV, various means of implementing PV, concentrating solar power, solar ponds, water heating, solar thermal, etc.'
Candidates were also evaluated on financial capability and management approach, past performance, small business participation and price.
The MATOCs are available to all military departments for large-scale renewable energy projects located on military installations and other DOD properties within the U.S., its territories and provinces.
'Overall, the Army has a goal of deploying 1 GW of renewable energy by 2025,' says Kathy Ahsing, director of the EITF's Planning Directorate. 'It is the Army's strategy to procure renewable energy from projects on or adjacent to U.S. Army installations to enhance energy security for the installation. The MATOC is only one of the contract vehicles and procurement options that will help the Army in its efforts to plan and execute a cost-effective portfolio of renewable energy projects.'
According to Ahsing, the EITF has identified 2 GW of solar potential across 180 Army, Army Reserve and Army National Guard installations. To date, the Army has released solicitations for 50 MW of solar, including projects at Fort Detrick, Md., Fort Irwin, Calif., and Fort Bliss, Texas.
'In addition, the EITF is actively assessing approximately 500 MW of solar opportunities,' Ahsing says. 'Specific projects will be released through the MATOC or other acquisition vehicles as the EITF completes its evaluation process.'
The 22 solar companies receiving MATOC awards are as follows:
Acciona Energy North America Corp., Chicago;
Apex Wind Energy Holdings LLC, Charlottesville, Va.;
Borrego Solar, San Diego;
Cobra Industrial Services Inc., Houston;
Dominion Energy Inc., Richmond, Va.;
Element Power US, LLC, Portland, Ore.;
Emerald Infrastructure, San Antonio;
Enel Green Power North America, Andover, Mass.;
Energy Matters LLC, Arlington, Va.;
Gehrlicher Solar America Corp., Springfield, N.J.;
Johnson Controls Government Systems, Milwaukee;
Lend Lease, Nashville;
LTC Federal LLC, Detroit;
New Generation Power, Chicago;
NRG Energy Inc., Princeton, N.J.;
Photon Finance LLC – SunPower, Mountain View, Calif.;
Siemens Government Technologies Inc., Arlington, Va.;
Silverado Power LLC, San Francisco;
Solar Power Ventures, Arlington, Va.;
Standard Solar Inc., Rockville, Md.;
Sunpower Corp., Richmond, Calif.; and
Washington Gas Energy Systems Inc., McLean, Va.