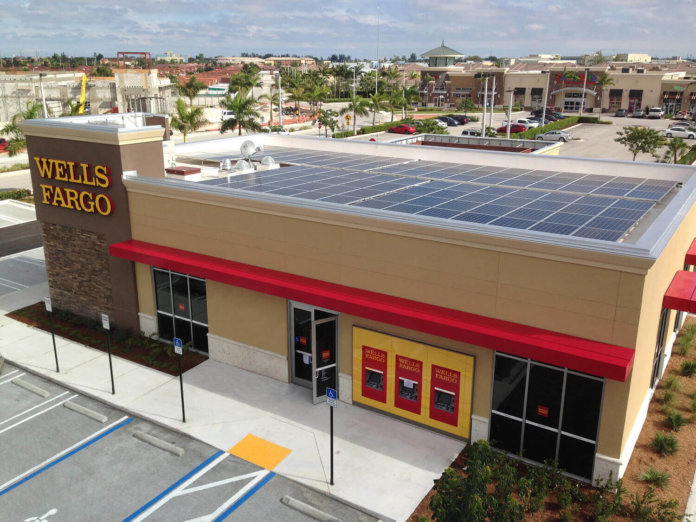 Wells Fargo has announced a 10-year structured renewable energy agreement with Reliant, an NRG Energy company. The agreement will provide roughly 62,000 MWh of solar energy annually to approximately 400 Wells Fargo properties in Texas from a new utility-scale facility.
The agreement represents the bank's largest renewable energy purchase to date. The NRG Renewable Select plan will provide 100% of the bank's total annual requirements in the Electric Reliability Council of Texas region and 3% of the company's national load. The Texas solar facility is expected to break ground in 2020 and begin delivering clean energy to the grid in 2021.
"Wells Fargo is focused on continuing to demonstrate leadership in the transition to a low-carbon economy," says Richard Henderson, head of Wells Fargo's corporate properties group. "Transitioning from the purchase of renewable energy certificates to long-term contracts that fund new sources of renewable energy is a critical piece of Wells Fargo's 2020 renewable energy goal. Through structured retail transactions, like the one we announced today with NRG, we can continue to minimize our impact on the environment while supporting the communities where we work and live."
"We are pleased to work with Wells Fargo on achieving the next step in their sustainability strategy," adds Robert Gaudette, senior vice president of business solutions at NRG. "Agreements using innovative retail products like this one reflect NRG's commitment to a low-carbon energy future by supporting by both renewable developers in the market and the growing demand for clean energy by customers like Wells Fargo."
As part of its 2020 renewable energy goal, Wells Fargo also will expand its on-site renewables portfolio by installing solar technologies on more than 100 corporate, branch and data facilities across the U.S. The company currently maintains solar arrays on 16 properties, in addition to a number of ATMs.
"Maximizing our on-site solar generation is a simple way to help reach our renewable energy goal while enhancing the value of our significant real estate portfolio," notes Henderson. "It's a tangible demonstration of our corporate citizenship in the communities where we do business."
Solar Industry recently interviewed the leader of Wells Fargo's renewable energy and environmental finance business, Phil Hopkins, who shared more on the company's clean energy financing plans.