With the first eight months of 2012 completed, it is an ideal time to evaluate the current state of the solar market and consider what might come next in this turbulent industry. At the core of this is one essential question: When will the solar market stabilize?
It is already clear that 2012 will most likely be a strong year for solar installations, with latest estimates ranging at a global installation level somewhere between 26 GW and 35 GW and most analysts settling for the midpoint of about 31 GW. This means that 2012 will again show significant growth of almost 20% over 2011's level of 26 GW.
This level of growth in the market is quite phenomenal given the lack – or removal – of incentives across many geographies. However, it can be attributed to the reduction in system costs driven mostly by module price declines.
These prices have been sliding since the beginning of the year and have lost another 12% to 15%, which fundamentally confirms the second rule in PV: that falling module prices facilitate demand creation.
During the Intersolar conference in Munich in mid-June, the lowest prices quoted were at 0.52 euros/W ($0.66), with the average price hovering somewhere above $0.75/W. There is a risk that prices will fall further as the pull-forward effect of demand in Germany – due to the feed-in-tariff change – abates and the U.S. market further destabilizes because of the anti-dumping duties.
Will consolidation help to stabilize prices? It is clear that at today's pricing level, few – if any – manufacturers in the industry are making money. This trend is well illustrated by the first-quarter results of major solar players, which showed significant losses.
The argument is that current price levels do not enable industry players to earn a margin that allows them to cover their production cost. Industry participants will not be able to sustain ongoing losses, and consequently, less-efficient players should drop out of the market, helping to clear overcapacity.
Today, almost 60% of capacity comes out of China, and consequently, Chinese companies will determine the future shape of the industry. Currently, there are more than 1,000 solar players in China – of which at least 50% have shut down production or partially ended production.
This has already resulted in some consolidation, best illustrated by the increase in market share exhibited by tier-one players, such as Suntech Power, Yingli and Trina, from 25% in the fourth quarter of 2011 to more than 60% by the end of the first quarter of 2012. However, even these industry leaders share too much capacity amongst themselves to help stabilize prices.
The 10 largest solar companies globally held a combined production capacity of 20.9 GW at the end of 2011, which represents 85% of the total installed capacity of 24.7 GW. First Solar, the only U.S. player, will actively take about 500 MW out of the market after shutting down its German facility.

Other players, such as Canadian Solar and Yingli, are unfazed by recent market developments and continue their expansion plans by adding 600 MW and 700 MW of new capacity, respectively. Hence, overall capacity of tier-one players is forecast to remain stable.
Chinese consolidation is likely to take much longer than expected, as provincial governments will be hesitant to let their local champions fall. However, some less-visible clearances of overcapacity are already taking place.
Industry research group Bloomberg New Energy Finance reckons that combining the various announcements and insolvencies that already took place might lead to about 20 GW off the market in the near future.
Manufacturing innovation
Can technology ease the pain? It is unclear whether current technological market developments will be sufficient to ease the pain in the solar sector. Despite the partial stabilization of prices and removal of some overcapacity from the market, current price levels do not allow companies to earn an adequate margin from cell and module manufacturing.
Most industry players are targeting a manufacturing cost of $0.75/Wp by the end of 2012. However, Canadian Solar is the major exception, claiming it can reach $0.60/Wp, down from $0.73 reported in the first quarter. If achieved, this would be a total reduction of 18%, half of which should come out of lower polysilicon/wafer input cost and the remainder from process and module redesign steps.
But even this significant cost reduction might not be sufficient, as prices most likely will continue to slide.
Consequently, the industry is focused on the question of whether there is sufficient innovation to bring production cost down further. Short-term cost reduction will come from incremental steps, such as tightly managing material input costs, further streamlining and automating processes, and small improvements to the manufacturing process (e.g., optimizing the amount of silver used in front- and back-contacting), rather than ground-breaking innovation.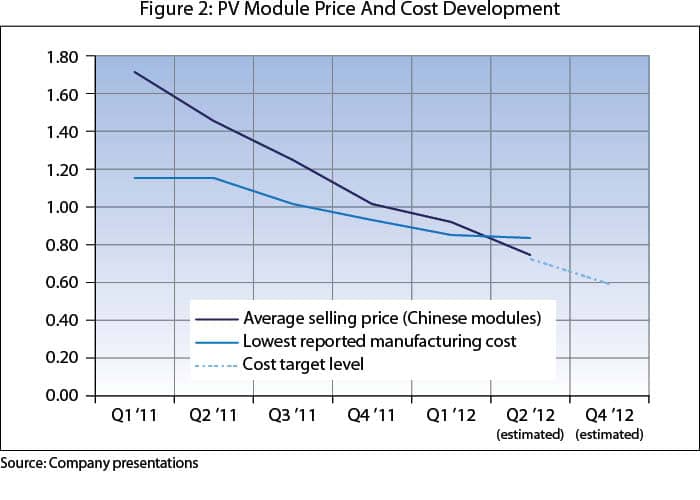 There is potential that thinner wafers might help, with a claim from SunPower that it would be able to reach approximately $0.60/Wp by the fourth quarter of next year from this methodology.
Similar steps are being taken by German manufacturer SolarWorld, which is planning to invest 50 million euros in the coming months for the combination of new equipment, technology upgrades and process improvements for its cell manufacturing sites in Germany and the U.S.
In the past, more ground-breaking innovation was driven by joint collaborations of leading manufacturers and solar equipment players. However, given the current environment and difficult investment cycle equipment players are facing, it is doubtful that they will have the financial means to continue these joint research and development (R&D) efforts.
Financial results for the first six months of 2012 underscore the challenges the equipment players are currently facing. Applied Materials declared losses of $74 million for the first half of 2012, while centrotherm filed for insolvency and Meyer Burger Technology barely posted a profit.
For the bigger, more diversified players, like Applied Materials, there is a risk that they might pull out of solar altogether, as the sector's current contribution to the company's overall revenue has declined to less than 3%. Additionally, management may not view solar as worth the effort compared to its core activities in the semiconductor market and the myriad of other growth opportunities.
Among the pure-play PV dedicated equipment players, only Meyer Burger Technology remains, raising concerns of whether sufficient innovation will come from the equipment front.
Not everything is bleak in the manufacturing equipment segment. GT Solar announced that it has developed new technology for polysilicon manufacturing that should allow for production cost of less than $14/kg. With current polysilicon spot prices at about $20/kg, this could open up room for a significant price decline of silicon, while at the same time, restoring margins of polysilicon suppliers.
It is clear that there is no short-term fix for the market difficulties of 2012. Similar to previous years, 2012 will be a year where market demand outstrips initial estimates and all players are jostling to get their share of the pie.
The road ahead
Previous experience has shown that markets always grow when prices continue to drop – hence the fierce price competition among industry participants. This will only change when markets start building at a more sustainable pace and governments start putting long-term policies in place. This will allow for some clear visibility instead of recurring quick fixes, as best illustrated by the ongoing revision of the German feed-in-tariff system.
For 2013, it is expected that there will be a significant shift in end markets, as Germany is expected to drop down to 3.5 GW or less of installations, and other European markets are also likely to shrink. Industry analysts believe that China will eclipse Germany as the single biggest market in 2013.
It is yet unclear whether the U.S., Japan and India, as well as selected smaller markets in Latin America, will be able to fill in the demand gap. Although solar development in the U.S. market could hinge on the outcome of the presidential election and the fate of other energy resources, such as shale gas, most other markets have a tendency to prefer local industry players, thus presenting a risk of severe market distortion.
Ultimately, the maturity of the solar sector will be a long and drawn-out process. It will be a combination of a number of factors, including more long-term and cautious market development by governments, ongoing consolidation of the industry, with some players falling out, and continued innovation to lower manufacturing costs.
For industry participants, that will mean a paradigm shift from 'it's all about growth and getting market share' to developing a sustainable business with focus on cost and capacity, retaining a technological lead and developing a clear view on which markets to serve.

Chaim Lubin is vice president and a member of the electronics and renewable energy group at global investment bank Lincoln International. He can be contacted at clubin@lincolninternational.com. Martina Ecker is managing director and head of technology and renewables at Lincoln International. She can be contacted at m.ecker@lincolninternational.de.
{OPENADS=zone=100&float=right}