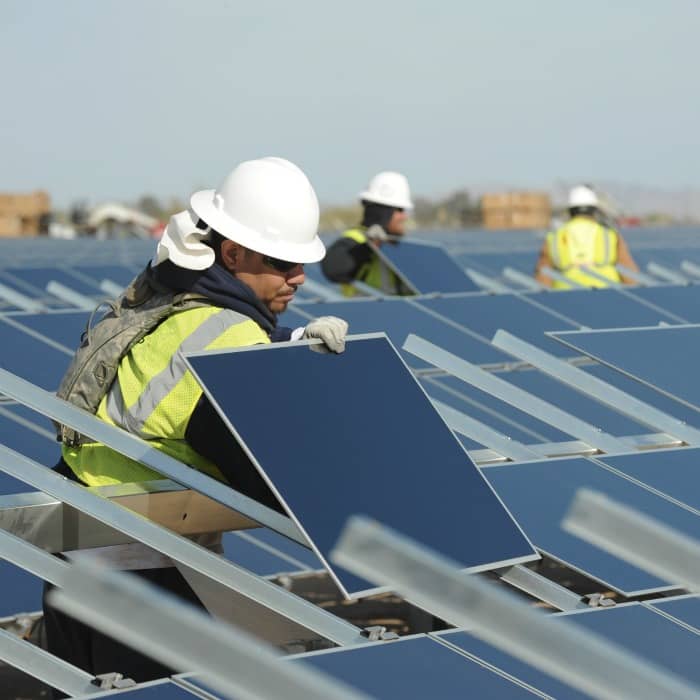 For the first time, U.S.-based First Solar became the world's largest photovoltaic engineering, procurement and construction (EPC) contractor in 2012, with more than 500 MW of projects completed. This total represented an increase of 50% over 2011's total, according to a new report from IMS Research, now part of IHS Inc.
The report also revealed that a major shift in global rankings occurred in 2012 due to the explosive growth witnessed in Asia and the Americas at the expense of Europe.
Just four European EPCs appeared in IHS' top 10 rankings for 2012. Two other U.S.-based EPCs – SunEdison and SunPower – were also featured in the top 15, installing 390 MW and 190 MW, respectively.
'Because of the dramatic shift in demand away from Europe, non-European companies are now completing vast numbers of PV projects around the world,' notes Ash Sharma, senior director of solar research at IHS. 'Last year, just four of the top 10 EPCs and system integrators were based in Europe due to the large project business of U.S., Chinese and Indian companies. Back in 2010, seven of the top 10 EPCs were European.'
First Solar and SunEdison were found to have benefited from the huge utility-scale PV pipeline being constructed both in the U.S. and many other countries over a number of years. These projects include the 550 MW Topaz solar farm and the 290 MW Agua Caliente solar project.
Rise of Asia
Asian EPCs also featured heavily again in the 2012 rankings, IHS says. Most notably, these firms included Chinese companies linked to state-owned utilities and industrial companies that benefited from massive domestic demand in ground-mount projects.
'Four of the 10 largest EPCs last year were Chinese companies,' says Sharma. 'There were another eight that appeared in the top 30.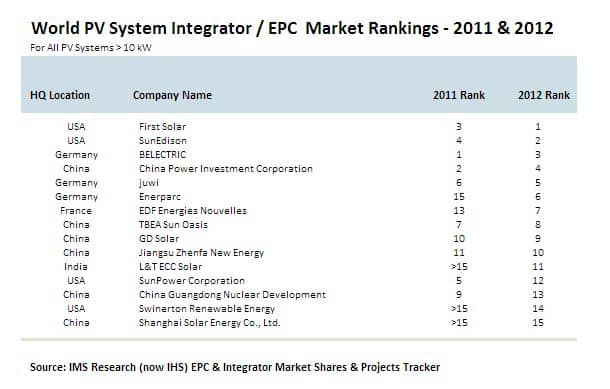 'These companies are likely to see continued gains as their domestic market continues to grow rapidly and the Chinese market remains largely impenetrable to foreign firms,' he continues.
Interestingly, an Indian company, Larsen & Toubro, appeared in the top 10 ranking for the first time. Larsen & Toubro is estimated to have completed nearly 200 MW of projects in 2012, nearly double the amount that it completed the year before. Like their Chinese counterparts, Indian EPCs remain in an excellent position to capitalize on the high growth of domestic ground-mount projects, according to the report.
Although European EPCs slipped down the rankings, the vast majority of PV EPC and system integrators are still located in Europe. In fact, 11 of the 30 largest EPCs last year were European, installing 2 GW of new capacity between them.
These same companies are also becoming increasingly active in new emerging markets around the world, including Latin America and Asia, the report adds.
'Despite all of the dramatic changes in the EPC landscape in 2012, one thing remains constant: The industry remains incredibly fragmented,' Sharma explains. 'First Solar's EPC business represented just 2 percent of the total market and the top 30 EPCs only accounted for 24 percent of the global projects business – roughly the same as 2011.'
The report, available here, features market shares and rankings by country and installation type and profiles of more than 600 EPCs and nearly 10,000 PV projects around the world.

Photo credit: First Solar