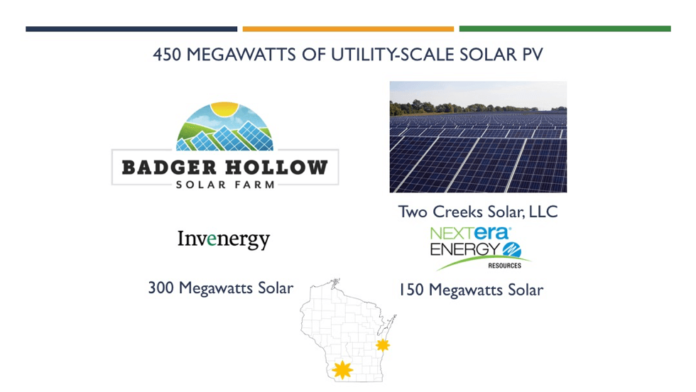 This week, the Wisconsin Public Service Commission (PSC) approved projects that will lead to a five-fold expansion of solar in the state.
According to an update from RENEW Wisconsin, the commission OK'd five interrelated cases:
Invenergy's Badger Hollow Solar Farm in Iowa County, totaling 300 MW. Badger Hollow could become the largest solar electric plant in the Midwest when completed. In addition, the PSC approved a tie line that will deliver the output to a nearby substation, where it will be sent to the southwest Wisconsin grid.
NextEra Energy Resources' Two Creeks Solar Project in Manitowoc County, totaling 150 MW. The PSC also approved a tie line that will deliver Two Creeks' output to a nearby substation.
An application from two Wisconsin utilities, Wisconsin Public Service nd Madison Gas & Electric, to acquire a total of 300 MW of this new solar capacity. The utilities will acquire the entire Two Creeks Solar Farm and a 150 MW share of the Badger Hollow Solar Farm.
By RENEW Wisconsin's estimates, the state of Wisconsin closed 2018 with about 103 MW of solar power – 80% of which was distributed solar.
When completed, the 450 MW of new solar would produce about 1.3% of Wisconsin's annual electricity consumption and supply electricity equivalent to the usage of about 116,500 Wisconsin homes. Both projects should be operational by mid-2021, says RENEW Wisconsin.
"We are very happy to see the Public Service Commission approve these solar projects and find that it is cost-effective for two of our major utilities to own and operate these plants," states Tyler Huebner, executive director of RENEW Wisconsin. "It is a landmark day for solar energy in Wisconsin. Solar energy is a smart choice to meet the electricity needs of our citizens, businesses and organizations – and without a state mandate to do so. With solar energy, we will produce homegrown, healthy energy right here in Wisconsin for years to come and provide substantial economic benefits to the landowners and local governments who will host these projects."