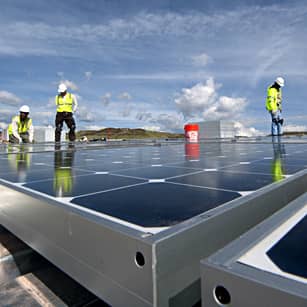 PV demand from the Asia Pacific (APAC) region is forecast to grow by 80% year-over-year (Y/Y) during the second half of 2012 (2H'12), driven by fourth-quarter demand at the 5.3 GW level, according to new research featured in the NPD Solarbuzz Asia Pacific Major PV Markets Quarterly.
Although major European markets have historically fueled strong year-end PV demand, the fourth quarter of 2012 (Q4'12) will represent a transition phase within the PV industry, as demand becomes increasingly global and further diversified across new and emerging PV regions.
'Strong growth in APAC and other emerging PV markets is providing new impetus for companies active within downstream PV segments,' says Wolfgang Schlichting, research director at NPD Solarbuzz.
'However, in established PV markets, the short-term business environment will remain challenging for the remainder of 2012, with continued reductions in incentive policies and uncertainties due to the ongoing trade disputes,' he adds.
Growth across APAC has already provided a significant boost to overall Q2'12 demand. The region showed more than 60% Y/Y growth, reaching 1.4 GW and compensating for the softening in demand across established markets. In particular, PV market demand in China grew by over 300% in Q2'12 to reach 0.6 GW, stimulated by deadline requirements for the completion of Golden Sun PV projects, NPD Solarbuzz says.
Another APAC country providing new downstream opportunities is Japan. Combined with year-end projects planned within China and India, the new Japanese feed-in tariff program is now setting up Q4'12 as a quarter of potentially massive PV demand pull across the APAC region.
More than 50% (or 5.3 GW) of calendar-year 2012 APAC demand is forecast to occur in Q4'12, according to the report.
However, this boom at year-end in APAC provides both challenges and risks for module suppliers, balance-of-systems providers and project developers. PV demand within many APAC regions continues to be characterized by highly competitive pricing with low-margin returns.
In addition, any delays in project financing could lead to oversupply at year-end ahead of a seasonally-driven downturn in Q1'13, when APAC demand is forecast to decline to just 2.1 GW.
Other markets
Despite the expiration of the federal cash grant in the U.S., the North American PV market grew 50% Y/Y to 1.4 GW in 1H'12. Renewable portfolio standards (RPS) continue to be a key driver in North America, accelerating deployment of utility-scale projects in several markets, including California, Arizona and Illinois.
Driven by RPS compliance requirements, the U.S. market is forecast to add 1.2 GW of ground-mount PV systems in 2H'12, representing 60% of the second-half U.S. demand, according to the report.
The European PV market grew 32% Y/Y during 1H'12 to 8.5 GW. However, incentive reductions in Germany, Italy and other major European PV markets continue to erode the demand-share previously commanded by these former PV market leaders.
Growth opportunities within Europe are forecast to shift to emerging markets during the next couple of years, including Austria, Denmark, Israel and various countries in the east and southeast of Europe.
Over the coming quarters, the global PV market will remain highly competitive, with existing PV manufacturers under extreme pressure to expand into the downstream channels as a perceived higher-margin segment.
'The ability to adjust quickly to changing market conditions arising from sudden policy changes, trade action or competitive strategies will become essential for industry participants,' notes Schlichting.
Photo credit: U.S. National Renewable Energy Laboratory