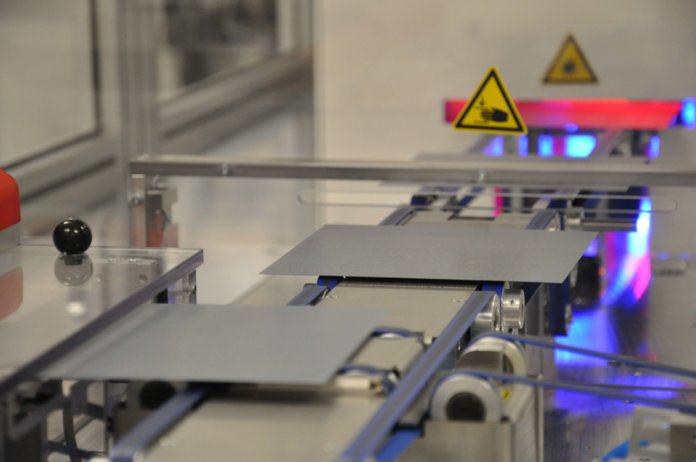 Massachusetts-based silicon wafer manufacturer 1366 Technologies has achieved a new performance record for its Direct Wafer technology, reaching 19.9% cell efficiency through 1366's ongoing technical partnership with Hanwha Q CELLS. The result edges out the partners' previous cell efficiency high of 19.6% and was independently confirmed by the Fraunhofer ISE CalLab.
1366 claims this latest achievement demonstrates the rapid efficiency gains that are possible with 1366's kerfless, drop-in 156 mm multicrystalline wafers and Hanwha Q CELLS' Q.ANTUM passivated emitter rear contact (PERC) cell process.
"Our efficiency is improving at a rate that's nearly double that of the rest of the industry. Late last year, we exceeded the cell efficiency of the high-performance multi (HPM) reference group in a head-to-head comparison, and we continue to make progress," says Frank van Mierlo, CEO of 1366 Technologies, who claims the company's technology "is not limited by the inherent weaknesses of ingot-based wafer manufacturing."
In addition to the new efficiency gain, 1366 has also announced the world's first commercial solar installation to include the company's wafers.
Japan's IHI Corp., through its wholly owned subsidiary IHI Plant Construction Co. Ltd. (IPC), has begun construction on a 500 kW solar installation that will feature more than 120,000 wafers made with 1366's Direct Wafer process. Located in the Japanese prefecture Hyōgo, the array consists of IEC-certified modules fabricated by a Tier 1 Chinese manufacturer, and 1366 says it managed the module procurement to support the project. IPC received delivery of the modules on March 3, and the new array is expected to be commissioned before the end of the second quarter.
"This commercial array builds on the many successes we've had at test sites around the world and clearly demonstrates our ability to run the Direct Wafer process at scale," says van Mierlo. "We're incredibly proud that IHI Group selected our technology for this project. This installation, coupled with our recent performance records, drives home what makes our manufacturing technology so revolutionary: we have the ability to deliver a better product at a dramatically lower cost."