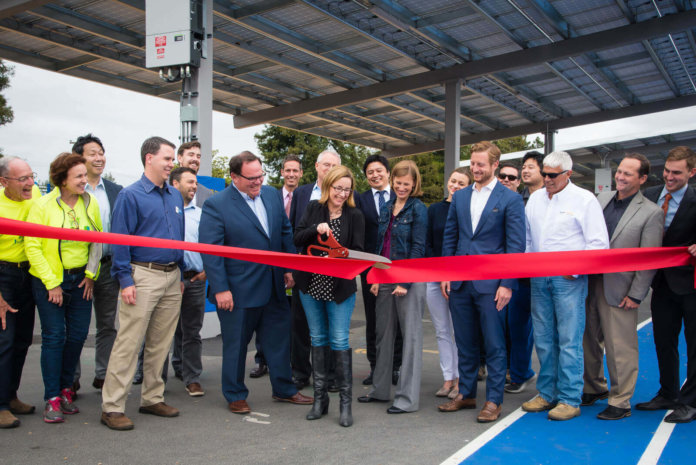 On Thursday, renewable energy developer ForeFront Power and Los Altos School District (LASD) in California celebrated the completion of solar canopy systems across nine LASD schools.
The ceremony, which took place at Oak Avenue Elementary School, also included Sunworks, the primary construction contractor, and TerraVerde Energy, the district's procurement consultant. The 1.4 MW portfolio is now delivering renewable energy to the schools at a price below the grid rate, according to ForeFront Power.
LASD is receiving solar energy at no upfront cost and without the use of bond funds, thanks to a power purchase agreement (PPA) framework with ForeFront Power. Through the PPA, ForeFront Power is responsible for all project financing, engineering, construction, and operations and maintenance for a 20-year project term. As a result, the solar portfolio is expected to save the district over $175,000 annually and up to $2.7 million within the first 10 years of operation, the developer estimates.
"The Los Altos School District has a history of financial prudence and commitment to providing top-notch education for every single one of our students. The completion of this project immediately begins a cost-savings that will contribute to quality education in all of our schools," says Superintendent Jeff Baier.
LASD, which operates seven elementary and two junior high schools, serves more than 4,500 K-8 students from portions of Los Altos, Los Altos Hills, Mountain View and Palo Alto.
ForeFront Power notes it coordinated closely with LASD to construct and complete the systems during the school year with minimal impact to school activities.
"Not only were our projects successfully completed, but we also gained infrastructure for future electric vehicle charging and improved [Americans with Disabilities Act] compliance. The cost-savings are crucial and a great benefit for our students and teachers," says LASD's chief business official, Randy Kenyon.
ForeFront Power also included data acquisition systems that integrate with online system performance monitoring software and flat screen televisions that were installed in the front office of each school. All schools will also receive free solar energy lesson plans and curricula through ForeFront Power's partnership with Schools Power.
"These projects highlight our desire to fully integrate solar energy into the learning environment at each school," comments Daniel Taylor, ForeFront Power's chief strategy officer. "From shade on the playground to hands-on activities in the classroom, we hope students will understand the myriad impacts of on-site solar energy."
Chuck Cargile, CEO of Sunworks, adds, "We are proud to have been the EPC solutions provider for this exciting solar project. The savings in utility costs at each of the nine locations will allow for funds to be redirected to advance educational program initiatives that directly benefit the students. In addition, the positive results help tomorrow's generation understand the positive impact that sustainable energy has on our environment."