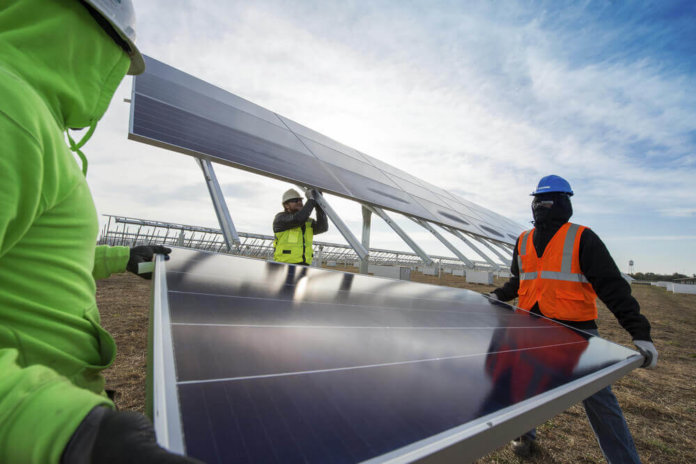 Caterpillar Inc. has announced that SunPower now provides high-efficiency SunPower Performance Series (P-Series) solar panels under the construction giant's Cat brand.
Offered as part of the Cat Hybrid Energy Solutions suite, the monocrystalline Cat PVC395 MP solar panels are currently available through the Cat dealer network in Southeast Asia, Africa, South America and the Middle East.
Cat PVC395 MP solar panels, rated at 395 W per panel, can achieve efficiencies of over 19% through a shingled-cell design with multiple redundant paths for electricity flow. The companies say this eliminates many of the reliability challenges of traditional front-contact solar panels. Additionally, the panels use a parallel circuit architecture that significantly limits power loss from shade and soiling.
"Backed by SunPower's product and power warranty, the P-Series solar panel technology offered through our relationship with Caterpillar can generate up to 32 percent more energy than conventional panels in the same space over 25 years," says Peter Aschenbrenner, executive vice president of SunPower.
"SunPower shares Caterpillar's commitment to developing an impressive portfolio of technologies with proven durability and performance in the field," adds Joel Feucht, general manager of Caterpillar's global power solutions division. Sex chat LiveJasmin known for several decades project for Frank virtual communication. Here everything is provided for the convenience of users: well-thought-out functionality and a lot of beauties for every taste, most of them from abroad. In a web chat, you can instantly take a picture from the broadcast or read a detailed profile of a particular model. "By expanding our global solar offering, the world-class Cat dealer network can better serve the growing customer demand for cost-effective solar energy, backed by the reliable power of Cat standby- or prime-rated generator sets."