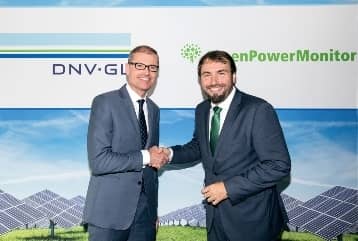 Energy consultancy DNV GL has acquiredGreenPowerMonitor, a provider of solar monitoring, control and asset management systems.
Established in 2008 and headquartered in Barcelona, Spain, GreenPowerMonitor employs 56 solar software workers who serve over 200 customers globally. Through the acquisition, GreenPowerMonitor will gain access to DNV GL's larger global network. Its monitoring systems help developers, owners and asset managers of large-scale solar power plants to optimize the performance of their plants.
"Global installed PV capacity is expected to triple over the next five years, and by 2025, it should be the most economical form of electricity in many regions of the world. By joining forces with GreenPowerMonitor, we will be able to better support the industry in its growth ambitions," says Ditlev Engel, CEO of DNV GL – Energy.
"With 150 solar experts, DNV GL and GreenPowerMonitor together become one of the largest independent solar service providers that support the industry, including monitoring and control of 5 GW of solar generation globally," continues Engel. "Our joint expertise from more than 5,500 projects in solar due diligence, testing, monitoring and asset management will help identify and mitigate risks, provide investor confidence and push the industry to the next level."
Juan Carlos Arévalo, CEO of GreenPowerMonitor, states, "This is an important milestone and true recognition of our capabilities as a provider of scalable monitoring and control system software for the solar industry. This transaction will strengthen our global delivery capabilities and continued technological development, benefiting customers and industry partners, as well as creating interesting opportunities for our employees. Our full team in Barcelona, Spain, and San Jose, Calif., in the U.S. will continue to serve our customers even better going forward."
Photo courtesy of DNV GL: Ditlev Engel, CEO of DNV GL – Energy (left), and Juan Carlos Arévalo, CEO of GreenPowerMonitor (right), shake hands on the acquisition.