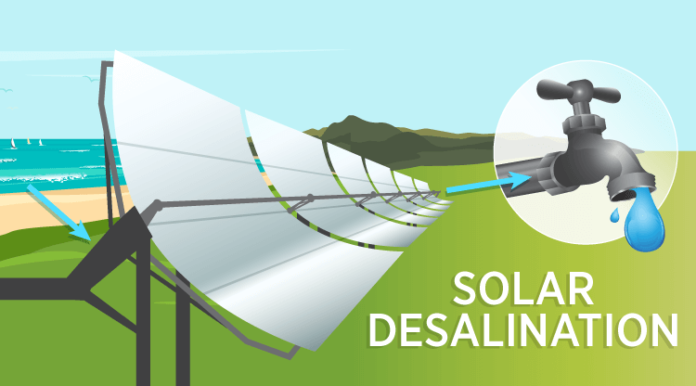 The U.S. Department of Energy (DOE) has announced new funding to develop revolutionary solar desalination technologies that will help create freshwater from otherwise unusable waters. Desalination treats seawater, brackish water, and contaminated water for use in municipal and industrial water supplies, or to reclaim contaminated water. The Solar Energy Technologies Office expects to make $15 million available for seven to 10 projects that explore early-stage technologies with the prospect of significantly reducing the cost of desalination through solar thermal energy.
"By integrating solar technology with desalination, we can dramatically lower the cost of creating clean water," says Charlie Gay, Solar Energy Technologies Office director. "Solar desalination cannot only be used in creating freshwater from saltwater, but also to clean wastewater from industrial processes."
Electricity costs account for up to half of the operating expenses for desalination operations and require plants to be grid-connected. The DOE says solar power, either in the form of electricity or thermal power, has the potential to dramatically reduce the cost of desalination, while enabling smaller, more portable systems.
Selected projects will help improve established solar desalination technologies and create low-cost designs for solar thermal collection and storage. Successful sub-components will be tested in an integrated system and will demonstrate a credible pathway to commercial development. The projects will be awarded as cooperative agreements and will require between 20% and 50% cost share, which ensures that federal research dollars are responsibly spent. This represents a total public-private funding of nearly $20 million.
Each project will also need to demonstrate significant improvements over best-in-class, near-commercial systems, produce repeatable results, and include clear, market-driven objectives. For example, projects that seek to address challenges facing municipal markets that utilize seawater for desalination will need to demonstrate success in creating low-cost freshwater at high volumes. Water that is produced at oil and gas well sites, by contrast, will have a particularly high salt content that is generated away from electric grid infrastructure. This makes reverse osmosis desalination technologies unpractical, but presents a significant market opportunity for solar thermal desalination, according to the DOE.