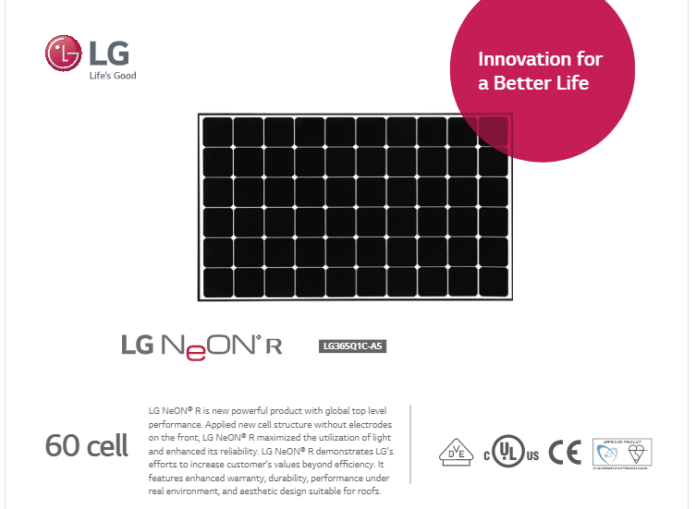 Englewood Cliffs, N.J.-based LG Electronics USA has announced the launch of two new solar panels for residential installation.
The LG NeON R is a 60-cell solar panel for residential installation with back contact. The newly released technology has all electrodes on the rear side, creating a panel with polished aesthetics, improved temperature coefficient and heightened visual appeal, according to the company.
"The NeON R back-contact technology blends form and function, allowing for 100 percent of the cell area to be used for solar power generation," says Stephen Hahm, vice president and head of LG Electronics USA's energy solutions business.
LG says its NeON R features improved temperature performance characteristics that significantly enhance output for maximum efficiency, even in low-light or hot, sunny conditions.
NeON R panels are rated at 365 W per panel, compared with most conventional panels that have a 290 W rating, equating to 26% more power from the NeON R panel, the company explains. And, unlike conventional p-type solar modules, the N-Type cells used in the NeON R use almost no boron, so light induced degradation is reduced significantly, maximizing performance and maintaining maximum potential power output for the life of the module, according to LG.
LG has also eliminated busbars on the front of the module for aesthetic purposes and for maximizing light absorption. In addition, its newly reinforced frame design ensures the module can endure heavy front and rear loads. LG is offering a 25-year product warranty.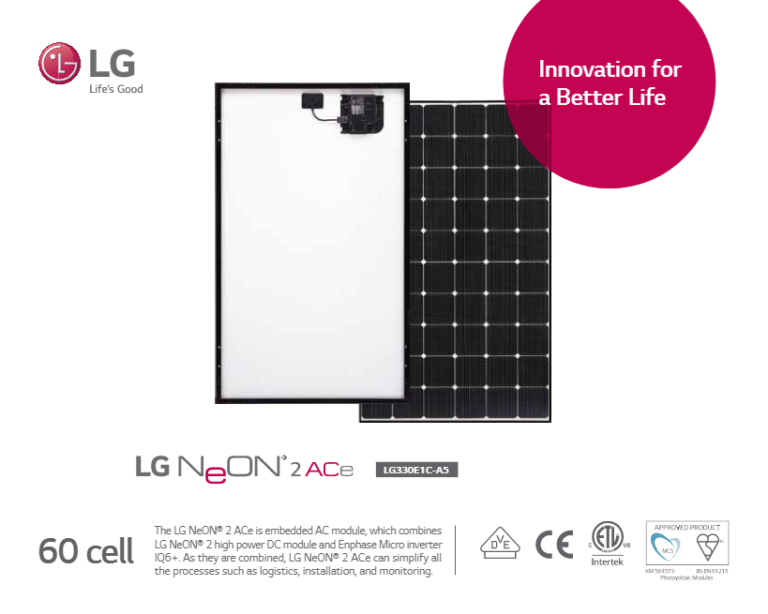 LG Electronics has also announced the NeON 2 ACe in collaboration with global energy technology company Enphase Energy Inc. According to LG, the new two-step solar panel is the first result of the collaboration between the companies for residential installation.
According to LG, the 60-cell NeON 2 ACe combines the processes of logistics, installation and monitoring and ultimately reduces installation time by half compared with conventional modules.
With this integrated AC Module, the installation process simply requires lifting the micro-inverter out of the flat shipping position and connecting the cable, without the need to install the two products separately. Once roof installation is complete and Enphase's internal software is set up, Enphase technology remote monitoring and management software can be controlled from any Web-connected device.
On the surface, LG NeON2 ACe utilizes brand-new cello technology, which replaces the industry standard three busbars with 30 thin wires, enhancing output and reliability. The company says this new technology allows for more energy-efficiency and premium temperature performance characteristics, in addition to aesthetically improving curb appeal for the homeowner, creating a sleek, black look.
LG Electronics says the energy created by this solar panel can be safely converted to AC voltage. A strategically positioned 15 mm distance separates the DC module and the micro-inverter, mitigating any impact to performance and reliability by allowing sufficient airflow for cooling, says LG.
LG NeON 2 ACe also comes equipped with LG Electronics' 12-year unit warranty and a 25-year warranty for the micro-inverter. LG says the anodized aluminum frame of the panel can endure a front load up to 6,000 Pa and a rear load up to 5,400 Pa.
Photos courtesy of LG Electronics