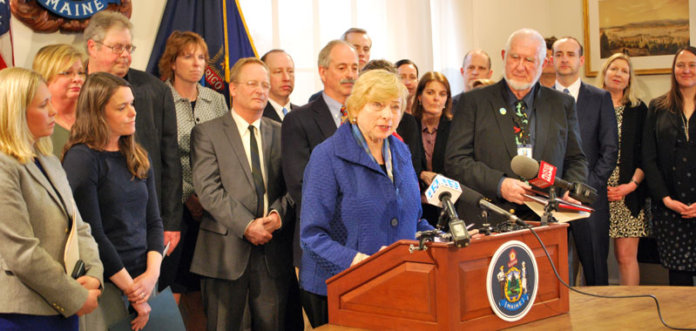 Gov. Janet Mills, D-Maine, has introduced bipartisan legislation to create the Maine Climate Council, which would develop an action plan and timetable for meeting the state's clean energy goals.
The council would consist of several department commissioners, state leaders, science and technical experts, business and nonprofit leaders, municipal leaders, a tribal representative, and a representative of Maine youth. It will be charged with leading Maine's efforts to reduce Maine's greenhouse-gas (GHG) emissions 45% by 2030 and at least 80% by 2050 and with achieving 80% renewable energy in Maine's electricity sector – specifically energy consumed in Maine – by 2030 and 100% by 2050.
Mills announced her intention to create the Maine Climate Council in February when Maine joined the U.S. Climate Alliance. L.R.2478, "An Act to Create the Maine Climate Council to Assist Maine to Mitigate, Prepare for and Adapt to Climate Change," would establish the Maine Climate Council in state statute.
Mills was joined for the announcement today by State Sen. David Woodsome, R-York, the lead sponsor of the bill; Bill Mook, owner of Mook Sea Farms in Wallpole; and Melissa Law, owner of Bumbleroot Farmers in Windham. The business owners spoke about the impact that climate change is having on their companies.
"The future of Maine's food systems depends on the adaptability and resilience of farms in the face of changing weather patterns and more extreme growing conditions," said Law.
Clean energy and environmental advocates, several key commissioners, and other lawmakers also flanked the governor during the press conference.
"I look forward to working with the legislature to pass this bill and ensure that the climate council can begin its work on building a better, brighter future for our state," said Mills.
"I am honored that the governor has asked me help her with this effort," noted Lawsome. "We may not agree on everything, but I think this something people across Maine and the country need to work on together. In my time in Augusta, I've worked to encourage renewable energy jobs, and I believe we need to do much more on weatherization. I believe this council and its work can encourage the creation of new jobs for our state and help Maine homeowners."
The introduction of the legislation has also drawn praise from the Maine Conservation Voters, the Maine Renewable Energy Association, the Nature Conservancy in Maine, the Island Institute, the Bigelow Laboratory for Ocean Sciences, the Margaret Chase Smith Policy Center, the University of Maine's Climate Change Institute, and the Natural Resources Council of Maine (NRCM).
"Governor Mills has spoken frequently and forcefully in recent months of the urgent need for ambitious climate action, and this bill is just what we need to set in motion many of the clean energy solutions that Maine should be pursuing," states Lisa Pohlmann, CEO of NRCM.
"Governor Mills' vision would set us on a clear path to achieve substantial, science-based reductions of climate-changing pollution," she continues. "We commend the governor for proposing a new Maine Climate Council that will serve as an inclusive forum for creating a comprehensive Climate Action Plan based on the best ideas, science, analysis and input from Mainers across the state."