During a dedication ceremony on Friday, utility Mississippi Power and Silicon Ranch announcedthat a 50 MW solar generating facility in Hattiesburg is operating and providing energy to the Mississippi Power grid.
The facility – which can produce enough energy to supply power to approximately 6,500 homes – features approximately 200,000 panels and is located on 450 acres in south Hattiesburg, Miss.
"Over the last 15 months, Mississippi Power and our partners have turned renewable energy in our state from a dream into a reality," said Mississippi Power President and CEO Anthony Wilson. "We've brought more than 100 megawatts of solar power online in the last three months, and I would like to thank the teams at Silicon Ranch, the Area Development Partnership and the Public Service Commission for their commitment to bringing this plant online to the benefit of the entire Pine Belt region."
Independent solar power producer Silicon Ranch funded the construction and will own and operate the facility for the long term. At its peak, the project's construction supported 350 jobs, many of which were filled by local labor and local subcontractors.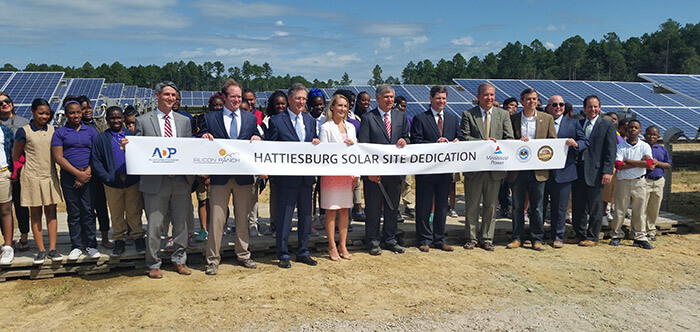 "The leadership and board of directors at Mississippi Power deserve tremendous credit for their commitment to bring renewable power to southeast Mississippi," said Silicon Ranch President and CEO Matt Kisber. "Silicon Ranch is honored to be the newest corporate citizen of the Hattiesburg community, and we look forward to collaborating with the Area Development Partnership to promote the economic and environmental benefits this project will bring to the city, to Forrest County and to the surrounding region for years to come."
"All of us at the Area Development Partnership want to thank Mississippi Power for its vision and commitment to bring low-cost, renewable power to southeast Mississippi," said Area Development Partnership of Greater Hattiesburg President Chad Newell. "We also want to thank our newest corporate citizen Silicon Ranch for investing $100 million to build, own, and operate a world-class solar facility in our community."
Mississippi Power notes this is the third solar generating facility that the utility and its partners have brought online this summer, as well as the second in the Pine Belt region:
On July 7, Mississippi Power and D.E. Shaw Renewable Investments LLC opened a 52 MW facility near Sumrall.
On July 11, Mississippi Power and Hannah Solar opened a 4 MW solar facility at the Naval Construction Battalion Center in Gulfport.
Last month, the Mississippi Public Service Commission unanimously approved a 52.5 MW solar facility in Lauderdale County that will be another partnership between Mississippi Power and Silicon Ranch.
With nearly 160 MW of approved solar generation, Mississippi Power claims it is the state's largest partner in providing renewable energy. The utility says it will receive all energy and associated renewable energy credits produced by these facilities, which it may use to serve customers with solar energy or sell to third parties for the benefit of customers.