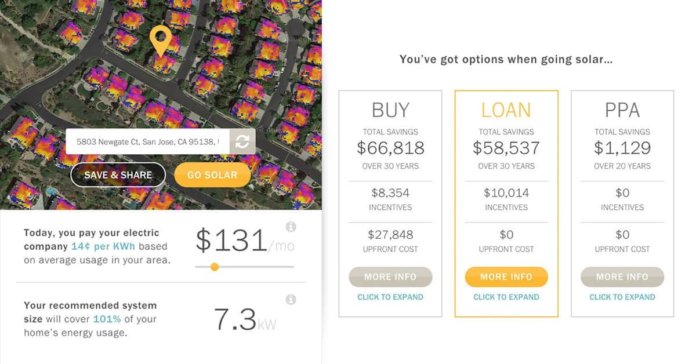 Modernize, an online service that connects homeowners with contractors specializing in energy-efficient home improvement projects, has launched ModSun, a residential solar panel cost calculator that is available for free.
Using nationwide light detection and ranging data, ModSun maps each square meter of a rooftop's size, slope, orientation and average sunlight intensity on more than 70 million homes across all 50 states, according to Modernize. After a homeowner enters his or her address, ModSun provides a 3D visualization of the rooftop's solar energy potential and a personalized cost assessment for offsetting up to 100% of the home's electricity usage.
By leveraging patented technology developed by Geostellar with support from the U.S. Department of Energy's SunShot program, Modernize says its ModSun translates complex geomatics data into easy-to-understand information.
"With ModSun, we sought to truly understand an everyday homeowner's thought process about going solar and use that insight to design a simple tool that answers their questions in a way that's upfront and easy to understand," says Jason Polka, CEO of Modernize.
Modernize says ModSun calculates the output potential of a solar panel system and its total cost to the homeowner, accounting for current local electric rates, recommended system size based on energy usage and weather patterns, specific available federal and state incentives, and detailed purchasing or financing options.