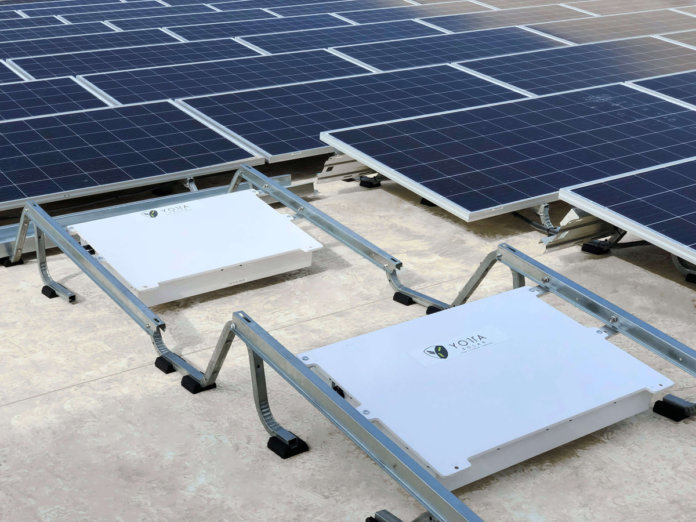 Yotta, a developer of panel-level energy storage solutions, and PanelClaw, a provider of flat-roof racking, are working together to develop Yotta's patented SolarLEAF energy storage solutions as an attachment to PanelClaw's rooftop racking solution.
According to the partners, the SolarLEAF system is the world's first and only thermally protected panel-level energy storage solution. It can be integrated in the PanelClaw system and be placed in lieu of concrete blocks.
"Because the SolarLEAF system replaces or reduces the need for concrete blocks on ballast racking, it enables a compact, versatile and seamless integration of solar-plus-storage for rooftop systems," says Costa Nicolaou, CEO of PanelClaw.
PanelClaw's flat-roof racking systems will come pre-engineered and fully equipped for the SolarLEAF attachment. The SolarLEAF reduces project and operational costs by eliminating the need for large enclosures and HVAC and fire-suppression systems, as required by other battery technologies, the partners say. It also lowers shipping costs associated with heavy ballasts and centralized energy storage systems.
Yotta's patented passive thermal regulation technology shields the battery from both hot and sub-freezing temperatures, resulting in a longer service life, better efficiency for combined solar-plus-storage and higher overall solar generation.
"The demand for cost-effective energy storage is rapidly growing and will be critical to the future growth of solar. We created the SolarLEAF to make adding energy storage seamless for solar developers and utilities by eliminating the design and site-specific complexities that come along with centralized storage," says Omeed Badkoobeh, Yotta's co-founder and CEO. "We're excited to team up with PanelClaw to deliver energy storage to its extensive customer base."