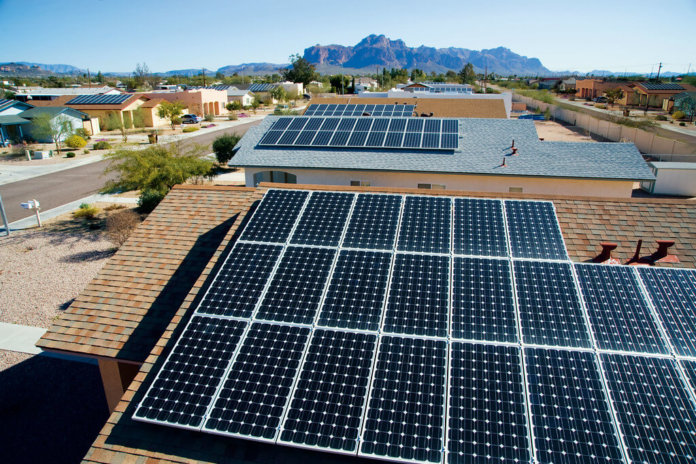 Arizona-based utility Salt River Project (SRP) says more than 750 customers are participating in an advanced inverter study to investigate how solar and other types of customer-generated energy sources impact the grid. The purpose of the pilot study, which is being conducted in conjunction with the Electric Power Research Institute, is to better understand how advanced inverters can help maintain grid reliability as solar installations increase.
The utility explains advanced inverters offer additional functionalities compared to traditional inverters that can support power quality and enable the ability to be controlled remotely. SRP has installed more than 750 advanced inverters on new and existing residential solar installations and began collecting data in July. The utility notes the study is one of the first of its kind to look at this technology from the customers' side of the meter.
"As more customers turn to solar or other generating sources, we will see an impact on our grid as the energy they generate tends to operate differently than traditional generation resources," says Jim Pratt, SRP's senior director of grid modernization services. "An advanced inverter helps smooth out the intermittent solar power fluctuations. We are excited to see how advanced inverter functionality can mitigate impacts and support power-quality requirements so equipment like our customers' appliances and air conditioning units operate optimally. This helps us enable customers' choices."
The advanced inverter project will help the utility to better understand advanced inverter functions, its communication and control capabilities, and how these functions can benefit both the customer and SRP now and into the future.
In one component of the study, SRP is working with a Valley community to determine how advanced inverters can benefit an area with a large penetration of solar. SRP has recruited 120 residents of the Encanterra subdivision in San Tan Valley who have existing solar systems on their homes to participate in the study. Advanced inverters have been installed on these systems, along with communication equipment to remotely control the inverters.
"Partnering with the Encanterra community will allow us to study the effects of significant solar penetration in a localized area and increase SRP's ability to support customers as more solar and other renewable energies are adopted," says Pratt.
Photo courtesy of SRP