The Solar Energy Industries Association (SEIA) has announced the completion of a summer advocacy blitz, during which it visited members of the U.S. House of Representatives from the top 100 solar congressional districts across the U.S.
According to SEIA, exactly 107 congressional districts rank in the top 50 of one of these categories: total solar capacity, solar installations, solar jobs and solar companies. SEIA visited with 101 of these offices to educate members and staff about the solar businesses in their districts and how policymakers can ensure continued job growth and investment.
The 107 congressional districts included Republican (42) and Democratic (65) members, representing an example of the apolitical nature of the solar industry, SEIA points out. The top congressional district for solar capacity is represented by House Republican Leader Rep. Kevin McCarthy, R-Calif., with more than 2,400 MW installed, and the top district for solar employment is represented by House Democratic Leader Rep. Nancy Pelosi, D-Calif., with more than 10,000 jobs in her district.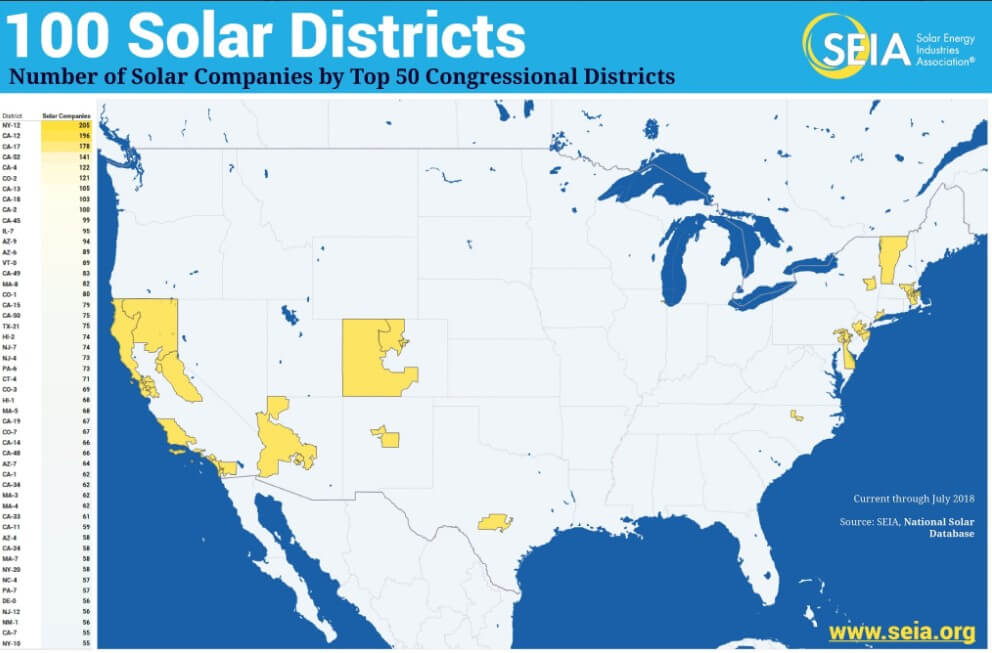 "Many members of Congress do not know what a robust solar industry they have in their district, making this advocacy blitz to educate representatives and staff a critical step in continuing our industry's growth across the country," states Abigail Ross Hopper, president and CEO of SEIA. "We have long said that solar is a bipartisan economic engine, and visiting the top 100 solar districts this summer was a clear indicator that that is the case."
"Massachusetts has long been a leader in solar energy, and I am proud that my district is home to more than 1,200 solar jobs," says Rep. Seth Moulton, D-Mass. "This industry is a critical force for good in fighting climate change and growing our economy with good jobs. I applaud the work that SEIA does to help continue the booming growth of clean energy in America."
In addition to educating these offices about the growth of the industry in their districts, SEIA shared its positions on key policy priorities while promoting the newly formed, bipartisan Congressional Solar Caucus. Policy priorities include seeking congressional engagement with the Treasury Department, which recently secured favorable "commence construction" guidance; enacting an expansion of the investment tax credit for energy storage; protecting Department of Energy programs that support renewable energy; and the role solar can play in increasing communities' resilience to storms.
As part of the advocacy push, SEIA also awarded several senators and representatives a "Solar Champion Award" for their work to help strengthen solar power in America. The awardees include Sens. Martin Heinrich, D-N.M., Thom Tillis, R-N.C., and Cory Gardner, R-Colo., and Reps. Ralph Norman, R-S.C., Carlos Curbelo, R-Fla., and Patrick McHenry, R-N.C.