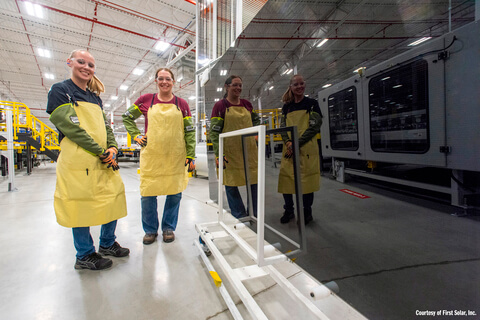 Swift Current Energy, a Boston-headquartered developer, owner and operator of utility-scale clean energy assets, has contracted with First Solar for 500 MW of its Series 7 thin-film modules.
This order will see modules delivered between 2027 and 2028. The company previously placed orders for 3.3 GW of First Solar modules last year.
"As we continue to progress our US development pipeline, certainty of pricing and supply is essential to ensuring that we deliver capacity as planned," says Eric Lammers, co-founder and CEO of Swift Current Energy. "This latest agreement with First Solar supports our effort to build a resilient, competitive value chain while supporting investments in domestic manufacturing."
First Solar has approximately 6 GW of operational, fully vertically integrated nameplate capacity in the U.S. In addition to its third Ohio factory, commissioned earlier this year, First Solar anticipates further expanding its footprint in the state by 0.9 GW while building new manufacturing facilities in Alabama and Louisiana, each with an expected annual nameplate capacity of 3.5 GW.