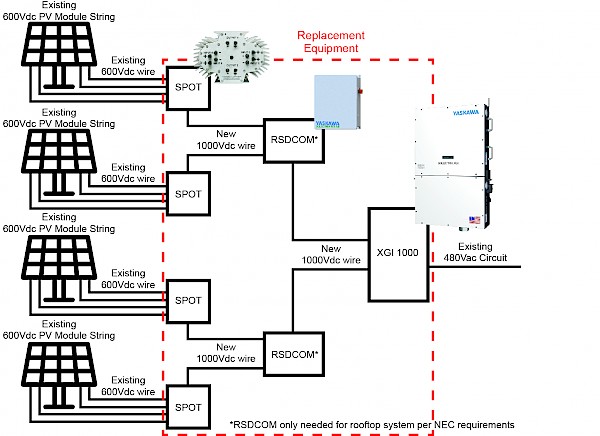 Yaskawa Solectria Solar, a U.S. commercial PV inverter manufacturer, and Alencon Systems, a U.S. manufacturer of galvanically isolated DC-DC converters and optimizers, have partnered to provide a solution for repowering 600 V solar PV plants.
The partners have announced the compatibility of their products, Alencon's string power optimizer and transmitter – the SPOT – and Yaskawa Solectria Solar's XGI 1000 transformerless string inverter. The companies confirmed interoperability during extensive testing at Alencon's power electronics laboratory, located near the company's Hatboro, Pa., headquarters.
Testing included operating the XGI 1000 inverter in a constant voltage mode, during which the SPOT performs string-level maximum power point tracking while providing the XGI 1000 a fixed voltage that allows it to run at its maximum efficiency.
According to the partners, the integration offers end-users a tested and complete solution for repowering 600 V PV plants with new high-efficiency inverters and optimizers. The updated PV array will be able to remain negatively or positively grounded as originally designed. Both the SPOT and XGI series inverter are designed, tested and built in the U.S. and are compliant with the Buy American Act (BAA), making the solution ideal for customers with mandates to comply with the BAA, including military and other government entities.
"The testing conducted between Alencon and Solectria confirms that the XGI 1000 and SPOT platforms perform perfectly together, creating an elegant, American-made solution for restoring and improving 600 V systems," says Miles C. Russell, director of product management at Yaskawa Solectria Solar.