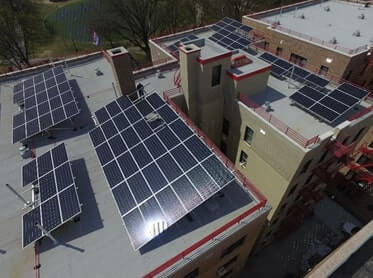 A Queens, N.Y., landlord is installing solar on every building it owns in the borough.
Zara Realty's initiative, expected to be completed next year, involves 6,500 rooftop panels installed on 45 buildings. In total, the project will produce 2.875 million kWh of electricity, serving the needs of all the properties' common-area electrical systems.
"Coastal cities like New York are particularly vulnerable to the impact of climate change, and as a corporate citizen, we have an obligation to do our part," says Amir Sobhraj, financial controller of Zara Realty. "This comprehensive renewable energy upgrade will not only help make the air we breathe cleaner, it will lower costs over the long term, providing incentives to continue pursuing the goal of reducing our carbon footprint and converting to clean energy."
The $6.5 million project, supporting 50 jobs, is being carried out in partnership with local companies Premier Solar Solutions and Sol Alliance.
"As a Queens native, it gives me great pride to be involved with and spearheading the way our city generates and uses electricity," comments Chris Hoffmann, president and founder of Premier Solar Solutions.
Stephen Owen, managing partner and founder of Sol Alliance, adds, "The order of magnitude of the solar projects that the Zara Realty family is implementing across their portfolio is raising awareness with the people of NYC that we are in the midst of an energy revolution and that the transformation to a cleaner, more sustainable energy future also leads to a better financial model for individuals, businesses and all other stakeholders."
The project also aligns with the state's Reforming the Energy Vision, which aims to reduce greenhouse gases by 40% and to generate 70% of the state's electricity from renewable resources by 2030.
"This is going to be a game-changer for the goal of moving into renewable energy," says Tony Subraj, vice president of Zara Realty. "As building owners, we are in a unique position to do our part to make the investments now that will help leave our children a greener and healthier world. Clean energy is the future, and as we continue modernizing and upgrading older buildings to meet the demands of today's world, converting to solar energy in our properties will be at the forefront of that effort."