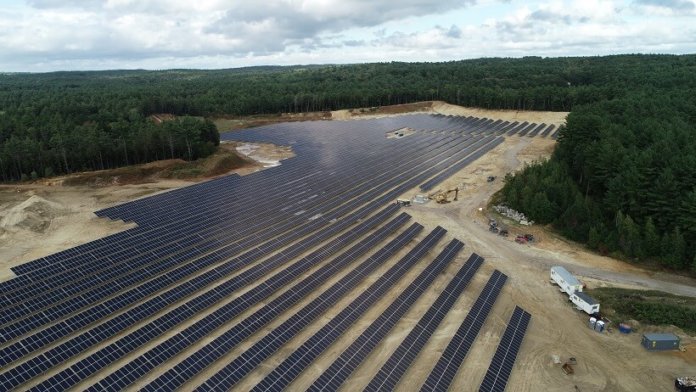 Borrego Solar has completed construction of the 7.1 MW Happy Hollow community solar-plus-storage farm in Winchendon, Mass.
Borrego Solar developed, engineered and constructed the project, while SunRaise secured construction and permanent financing and will remain the long-term owner and operator of the facility. CleanChoice Energy is managing subscriber services, including acquisition, management, customer care, billing and retention. According to the partners, the project represents Massachusetts' largest community solar-plus-storage project.
The solar facility, which is nearing subscriber completion, was built on a gravel pit. It is expected to generate 9,000,000 kWh of electricity annually, which is enough energy to power 1,200 average Massachusetts homes for a year. The battery storage component has dispatchable energy of 6,200 kWh.
"This project provides people the opportunity to support clean energy innovation while reducing their climate impact and saving money on their energy bills," says Tom Matzzie, CEO of CleanChoice Energy. "Massachusetts continues to be a clean energy leader, and this solar farm is a prime example of that leadership delivering benefits to the community."
Community solar offers landowners the opportunity to receive additional revenue by leasing their land for solar. It also opens the benefits of solar to residents who do not own their own home or do not have a roof that works for solar. The subscribers for this project can see up to a 10% savings on their utility bill, says CleanChoice.