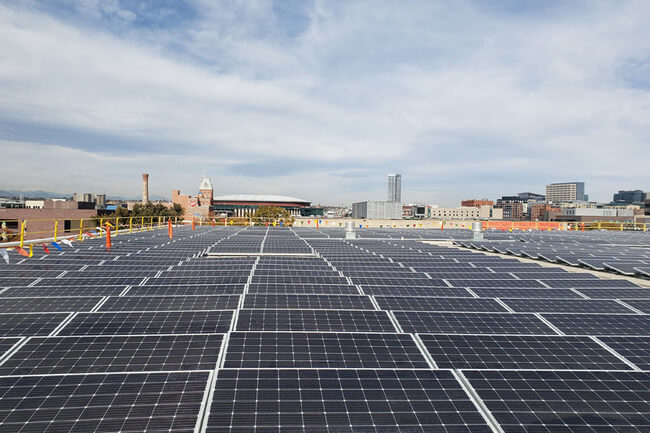 The Auraria Sustainable Campus Program (ASCP), in partnership with the Auraria Higher Education Center (AHEC) and Namastè Solar of Boulder, is nearing the completion of a 779 kW solar array installation atop the Auraria Library.
The installation is the largest single-roof solar array in downtown Denver, according to Xcel Energy. It will power two-thirds of the Auraria Library's electricity needs.
"Auraria Campus is fortunate to be situated in one of the most solar-friendly climates in the country, and the new solar array reinforces our ongoing commitment to renewable energy initiatives on campus," Colleen Walker, AHEC CEO, says.
The 2,100-panel array will produce approximately 1 million kWh annually.
The 150-acre Auraria Campus serves the Community College of Denver, Metropolitan State University of Denver and the University of Colorado Denver. AHEC is the Colorado state entity that serves as the umbrella organization for the Auraria Campus. The collective student, faculty, and staff population is approximately 43,000, making it the largest campus in Colorado.
Namasté Solar is an employee-owned Colorado Public Benefit Cooperative that designs, installs and maintains solar electric systems for homeowners, commercial property owners and utility-scale developers.