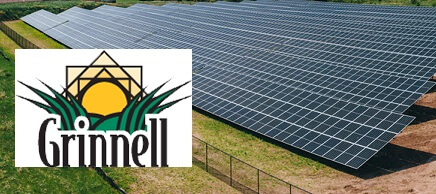 The City of Grinnell in Iowa is partnering with Alliant Energy on a solar project to be established on a brownfield site and soon-to-be owned city land. Upon ownership of nearly 32 acres, the City of Grinnell plans to enter into a lease agreement with Alliant Energy and proceed with the development of the solar project on 5-7 acres at 400 6th Avenue West in Grinnell.
"Our partnership with Alliant Energy to develop a 1.59 MW solar energy system demonstrates our commitment to renewable clean energy generation," says Russell Behrens, Grinnell's city manager. "The project will revitalize an underutilized manufacturing property, generate meaningful revenue for community projects and allow the school district to recoup their investment in this property. This would not have been possible without the bold leadership demonstrated by the school district when addressing this long-time nuisance property."
Alliant Energy is currently conducting land surveys and studying power grid connection opportunities in the identified project location. If the studies confirm the expected positive results, Alliant Energy will design, construct, own, operate and maintain the solar project. The City of Grinnell will receive annual fixed lease payments over the next 20 years.
The project is part of Alliant Energy's Customer-Hosted Renewables Program, which enables customers with available land to host solar facilities and receive lease payments and renewable energy credits. The project also furthers Alliant Energy's goals to achieve net-zero carbon dioxide emissions from the electricity it generates by 2050.
"We are excited to work with the City of Grinnell as we strive toward a more sustainable future together," states Amanda Accola, key account manager for Alliant Energy. "The project aligns with our mission-driven purpose to have a role in strengthening communities while providing the opportunity to enhance community exposure to renewables as well as the consideration of how renewables can integrate with community planning and development."
The City of Grinnell and the Grinnell School District are currently working on a purchase agreement for the land on which the solar project will be built.
Construction could begin in late-2023 and become operational in late-2024. The timeline, as well as final approval of the project is contingent on field study results, design, permitting and equipment availability.