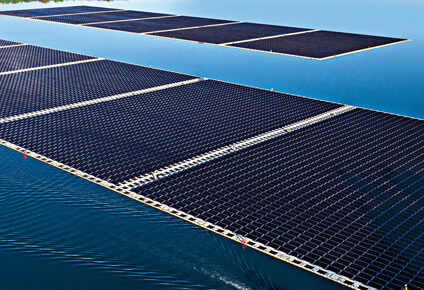 NJR Clean Energy Ventures (CEV), the renewable energy subsidiary of New Jersey Resources, and New Jersey American Water, the state's largest water and wastewater utility company, recently celebrated their collaboration on North America's largest floating solar array.
Located on a reservoir at New Jersey American Water's Canoe Brook Water Treatment Plant, in Millburn, the project uses an innovative floating racking system with ​​16,510 solar panels.
The 8.9 MW solar facility is expected to provide approximately 95% of the water treatment plant's annual power needs through a power purchase agreement with CEV.
The plant produces 14 million gallons of drinking water per day and serves 84,000 customers.
The Canoe Brook project was developed by Solar Renewable Energy LLC (SRE) and is the second floating solar project in CEV's portfolio. The first is a 4.4 MW array located in Sayreville, New Jersey, also developed by SRE.