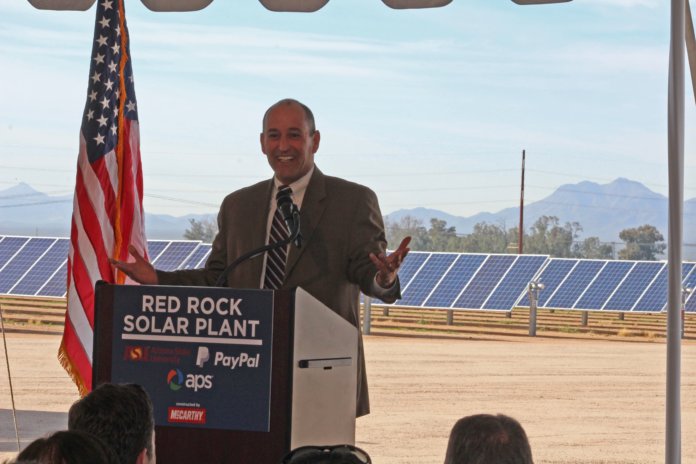 In partnership with online money transfer company PayPal and Arizona State University (ASU), utility APS has unveiled the 40 MW Red Rock Solar Plant. APS developed and will own and operate the project, located 30 miles south of Casa Grande in Red Rock, Ariz., and ASU and PayPal will purchase the project's renewable energy.
"The construction of Red Rock is a great example of how we partner with our commercial customers to find innovative and sustainable solutions that can help them realize their green energy goals," says Daniel Froetscher, APS senior vice president of transmission, distribution and customers. "The cooperation between APS, ASU and PayPal demonstrates how the Arizona business community is committed to developing solar energy in a smart, cost-effective manner."
ASU and PayPal were both seeking ways to reduce their carbon footprint. This agreement helps ASU expand its solar energy sourcing beyond its almost 25 MW of on-campus solar sites. It also helps PayPal keep up with its energy demand, while also supporting a desire to be a leader in the community by driving energy sustainability.
"We are very pleased that the Red Rock Solar Plant will more than double our solar generating capacity to more than 50 MW," comments Morgan R. Olsen, ASU executive vice president, treasurer and chief financial officer. "This project enables us to expand our solar portfolio substantially with no initial capital investment and underscores our sustainability commitment. ASU is proud to continue building our solar collection that has grown to 88 installations since 2004. In calendar year 2017, we expect approximately 30 percent of our electrical needs will be met with clean, renewable solar energy."
Red Rock is APS' largest grid-scale solar power plant, surpassing the 35-MW Foothills Solar Plant located near Yuma, Ariz. The utility says such large solar plants take advantage of economies of scale to provide additional solar to more customers at a lower cost.
"Arizona is one of the most solar-friendly states in the nation, and APS remains at the forefront among solar-friendly companies," says Froetscher. "In fact, last year, we reached 1 GW of solar on our system, becoming the only utility outside California to achieve this milestone."
The Red Rock Solar Plant is located east of APS' Saguaro Natural Gas Power Plant on land APS has owned since the 1950s. The utility says that with transmission lines already nearby, the 400-acre plot was an ideal location for a grid-scale solar plant, and the land is now creating additional tax income for Pinal County and other local taxing authorities.