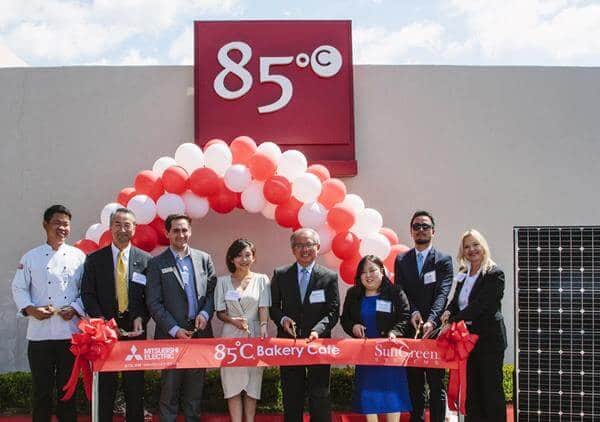 A fast-growing coffee shop and bakery chain has installed a 325 kW solar photovoltaic (PV) system to power its central kitchen in Brea, Calif. The system, which is expected to produce 527,702 kWh of power annually, features 1,226 Mitsubishi Electric Diamond Premium solar modules and seven inverters from Yaskawa – Solectria Solar.
To honor 85°C Bakery Cafe's commitment to clean energy and the environment, Mitsubishi Electric US Inc. held a ribbon-cutting ceremony at the Brea headquarters on Monday. Guests, including Mitsubishi Electric US Inc. President and CEO Kent Hora, 85°C Bakery Cafe CEO Henry Cheng, and City of Brea Mayor Cecilia Hupp, mingled at the central kitchen, which is responsible for mixing the wet and dry ingredients for all 27 of 85°C Bakery Cafe's locations in the U.S.
"85°C Bakery Cafe is pleased to announce our first solar-powered facility worldwide. The environment and sustainability has always been a priority for our company," said Cheng, who is also a master chef at 85°C Bakery Cafe. Founded in 2004, 85°C Bakery Cafe has seen rapid growth and is planning to open it's 1,000th location globally this year.
"Mitsubishi Electric is honored to be selected to supply PV modules for 85°C Bakery Cafe's first solar installation," said Hora. "We appreciate the bakery's commitment to going green and its environmental leadership in the community."
The system was installed by Irwindale, Calif.-based installer SunGreen Systems, whose CEO, John Hoffman, worked closely with 85°C Bakery Cafe to meet the bakery's energy needs. According to Hoffman, "In addition to greatly reducing carbon emissions, this system will pay for itself within five years. After its payback, 85°C Bakery Cafe will enjoy free energy for the next 25 to 30 years."