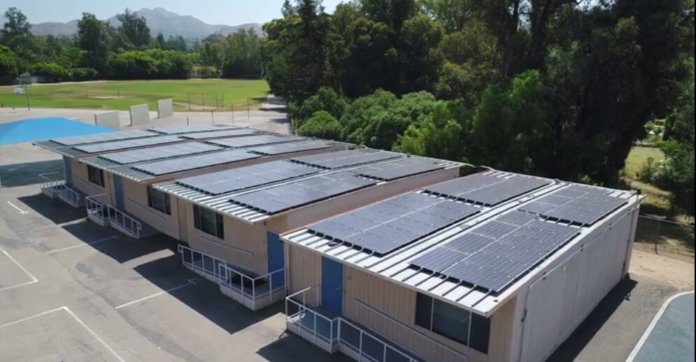 Alta Energy has completed the installation of solar power systems at 14 campuses across California's Poway Unified School District (PUSD).
The company says it installed a total of 632 kW on 65 of PUSD's standard 24′-by-40′ relocatable, portable classrooms. Financed through a power purchase agreement (PPA) with no out-of-pocket costs to the district, the project is expected to reduce PUSD's electricity expenses by nearly 15% and save the district $250,000 per year, according to Alta Energy.
The company says installing solar on the roofs of portable classroom buildings enabled the use of standardized designs that were quicker, less expensive and less disruptive to install than more conventional designs, such as solar parking canopies. There are an estimated 80,000 such buildings in the California public school system, representing about 30% of all K-12 classrooms in the state, according to Alta Energy.
Furthermore, the company says the solar installations enable PUSD to switch to a more favorable electric rate from its utility, San Diego Gas and Electric (SDG&E), as major utilities in California offer rates with lower demand charges as a benefit to customers that install solar power systems. Prior to installing solar at these campuses, demand charges constituted 65% of PUSD's electricity bills. After the project, those charges were reduced to only 30% of the total bill, according to Alta Energy.
"Placing solar on our relocatable classrooms and switching to SDG&E's solar-friendly rate is going to yield significant savings for the district," says Chad Koster, director of facilities at PUSD. "We are always looking for innovative ways to cut operating costs. This project will enable us to do that and have a positive environmental impact at the same time."
"The Poway solar project is based on a different strategy than most solar projects at schools," says Marc Roper, chief commercial officer of Alta Energy. "Instead of maximizing the amount of solar power generation per campus with custom, one-off system designs, we used a cookie-cutter approach to install solar on existing portable classrooms. This provides PUSD just enough solar to trigger an electric utility rate switch, allowing the district to save significantly, while minimizing risk and impact on the district's operations. It's a great model with broad applicability, as these portable classrooms can be found in virtually every school district in the state."
Representatives from PUSD and Alta Energy will elaborate on PUSD's sustainability projects at the Green California School Summit in Pasadena, Calif., on Nov. 29 on a panel titled "Tackling Demand Charges Strategically with Solar and Storage at PUSD." They will be joined by Stephen Kelley, senior vice president of Green Charge, to discuss PUSD's solar and energy storage projects and share best practices for other school districts to realize savings on their electricity bills.