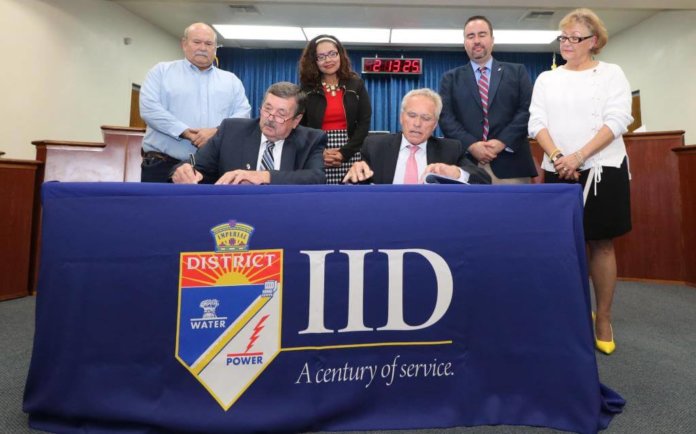 A $46 million solar project in California's Imperial Valley will be built by Boston-based nonprofit Citizens Energy Corp. following yesterday's unanimous vote of the local utility's board of directors.
Citizens Energy will own and operate the 30 MW project, which is being built on 200 acres of land leased from the publicly owned utility Imperial Irrigation District (IID). The partners say that under IID's "eGreen" program, based on a community-shared solar model, affordable power will yield significant savings to 15,000 low-income households.
"We believe all customers should have a choice and an opportunity to support and benefit from locally produced renewable energy," says IID Board President James Hanks. "It has been our belief for quite some time now that a program such as this could be beneficial for all of our customers. I'm very pleased that we were able to put together a deal with Citizens that will turn this into a reality."


With the board's vote Tuesday, IID agreed to purchase two-thirds of the project's power. The project's remaining power will be purchased by a Citizens Energy subsidiary, Citizens Sunrise Transmission, using profits from its stake in the $1.8 billion Sunrise Powerlink high-voltage transmission line. All of the power will be allocated at cost to qualified low-income households served by IID, according to the partners.
To date, Citizens Energy's charitable investments in the Imperial Valley have focused on residential rooftop solar systems, but under the eGreen program, Citizens will be able to reach more families in need and provide them a greater benefit.
"We are proud to work with our friends at IID to harness clean, renewable power for the benefit of both low-income homeowners and renters in the Imperial and Coachella Valleys," says Citizens Energy Chairman Joseph P. Kennedy II. "The Aztecs and the Mayans worshipped the sun and drew on its power to create great civilizations. We are committed to drawing on that same power to forge a greener civilization, free of fossil fuels, that will protect that planet and help thousands of struggling families with affordable electricity."
Citizens Energy has nearly a decade of experience developing solar projects through its Citizens Solar division and boasts a $225 million portfolio of over 30 completed utility-scale solar farms.
Photo courtesy of IID: Leaders from Citizens Energy and IID signed a 23-year power purchase agreement for the project